Colourful festival Holi is not only an important festival of India to cherish the unforgettable moments with our loved ones; it also gives us a reason to forget and forgive unpleasant memories and to remind us that goodness conquest over wickedness. In 2022, Colour Holi will be celebrated on 18th March and Choti Holi (Holika Dahan in 2022) will be celebrated on 17th March.
History – The story behind the Holi Festival
Like other Indian festivals, Holi also has its roots connected with ancient times of Indian Hindu mythology. According to the beliefs and as described in the holy book 'Bhagavad Puran', Lord Vishnu has killed demon king Hiranyaksha in his avatar as 'Varaha'. Thus his younger brother Hiranyakashipu started hating Lord Vishnu. He was granted a boon by Lord Brahma that he can neither be killed by a weapon nor an animal, neither in day nor in the night, neither indoor nor outdoor, neither by any deity not by any demon. This boon made him believe that no one could defeat him and he was immortal. Thus he ordered everyone to worship him instead of Lord Vishnu. He started causing havoc in his kingdom. But his son Prahlad refused to obey his father's order and continued worshipping Lord Vishnu.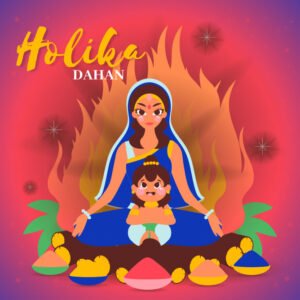 Angered father decided to kill his son with the help of his sister Holika. She was immune to fire. Hence they lit a pyre and Holika sat on to it with his nephew Prahlad in her lap. Prahlad kept chanting Lord Vishnu's name. Holika was burnt in the fire and Prahlad was saved with Lord's mystical powers. Angered Hiranyakshipu smashed a pillar with his mace asking his son that where is Lord if he was believed to be everywhere. Lord Vishnu incarnated at once out of the pillar as Narsimha. Lord Narsimha had a half-human and half-animal iconography with his face and claws like a lion, and his torso and lower body like a human being. Respecting Lord Brahma's boon, that 'neither human nor animal' figure put the demon on his thighs and killed him with his sharp nails while standing on the doorstep of the palace at twilight. The ritual of burning bonfire on Holi eve is associated with this story.
The ritual of playing Holi with colours is linked with a mesmerizing story of Lord Krishna. The deity had a dark complexion while his beloved Radha was very fair. Once he asked his mother, Yashodha, the reason for their different face tone. Funnily his mother suggested him to splash the desired colour upon Radha and change her complexion accordingly. Brij Holi, Lath Maar Holi and Phoolon Ki Holi, are age-old traditions of the land.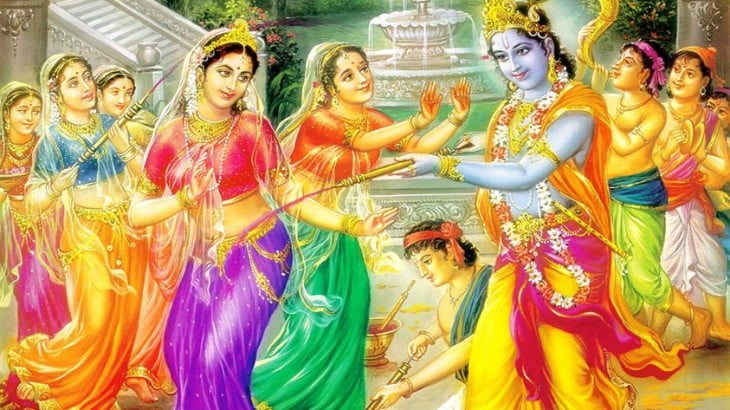 Significance of the festival
This festival of joy is celebrated not only by the common men; it has its own essence to the farmers and nature. It attributes the arrival of spring reason and the end of winter season. The weather turns pleasant with an equal balance between the hot and cold airflow. Farms look eye-catching and crops stand in a queue waiting to get harvested. Colourful flowers bloom everywhere and nature plays Holi in its own way.
Holika Dahan – Why do we burn Holi?
Choti Holi or Holika Dahan is celebrated on Holi eve. Thus this year, Holika Dahan will be done on 17 March, 2022. Holi bonfire signifies the burning of demonic Holika to save Prahlad, thus embarking the triumph of good over evil. People gather and burn holy bonfire to seek the blessings of Lord Vishnu and Lord Narsimha.
When and where Holi is celebrated
Holi was originated in the land of India and is predominantly celebrated by the Hindus in the country. But due to the relocation of the community to the other regions of the world, Holi is now relished by the people in other parts of Asia and the western zone of the globe.
Holi is celebrated at the arrival of spring season. The date to celebrate Holi is decided on the basis of Hindu calendar/ Panchang– on the full moon day (Purnima) in the month of Phalgun. This year, Holi will be celebrated on 18 March, 2022.
Holika Dahan 2022 Pooja timings

The Tithi and pooja mahurat timings for Holika Dahan are:
Holika Dahan day and date – 17 March, 2022 (Thursday)
Holika Dahan mahurat time – 09:03 PM to 10:13 PM
Holi Tithi/ Purnima Tithi starts at – 01:29 PM on 17 March, 2022
Holi Tithi/ Purnima Tithi ends at – 12:47 PM on 18 March, 2022
How to make organic Holi colours at home?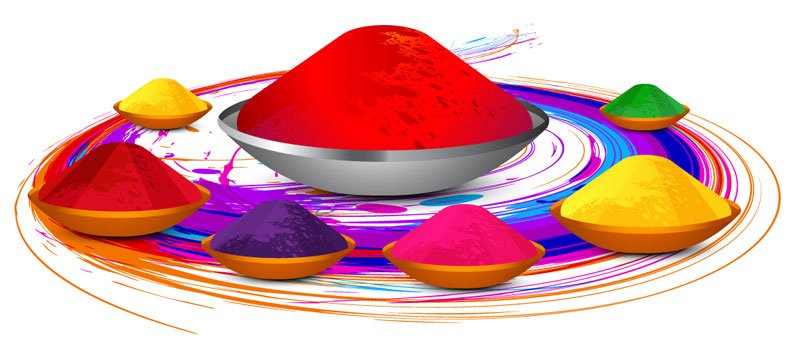 Looking for ways to make organic Holi powder? Homemade Holi colours are 100% safe for your skin. These environment friendly colors don't require much hassle. You can make safe and natural Holi colours in different shades.
Red: For dry red Holi powder, collect the petals of red hibiscus flower or red rose flower and dry them in shade until they turn crisp like chips. Grind them in your kitchen grinder to make a powder. For wet colour, boil the peels of fresh pomegranate in water. You can also mix a teaspoon of limestone powder and 2-3 pinches of turmeric in water to get nice red colour.
Yellow: Yellow is the easiest DIY Holi colour. You just need to mix two parts of turmeric powder with four parts of gram flour. You can also add dried marigold flower petals or dried orange peel powder to it. Liquid color can be made by overnight soaking of Tesu flowers in half bucket of water. Alternatively, you can boil marigold flower petal in water or simply mix turmeric in a bucket of water.
Green: Mix henna powder with wheat flour or rice flour in equal proportions. Liquid green color can be made by mixing the fine puree of blanched green leafy vegetables with plain water.
Blue: Dried petals of Neeli Gulmohar flower can easily be converted into DIY Blue Holi colour. Mix this powder with water for liquid colour.
Orange: Dried and crushed petals of 'Flame of Forest' flower will give you orange Holi powder. Mix henna powder with water and get a nice orange colour to play Holi.
Pink/ Magenta/ Purple: Make a paste of beetroot and dry it under sun to get a fine magenta Holi powder. You can also boil beetroot with water to get this colour in liquid form. Dilute with increased quantity of water to get a lighter shade of pink colour. A higher quantity of beetroot will give a nice purple shade.
The cheapest and easiest method for DIY Holi colours
If you are looking for 100% hassle-free method to make Holi powder at home, here's the answer. Mix an appropriate quantity of desired edible colour with rice flour/ corn starch/ wheat flour. Sprinkle few splashes of water over this mixture to make a thick paste. Spread this mixture in a broad pan and let it dry completely. Blend it to make a fine powder. You are all set to step out with your favourite colour.
Special tip: Add few drops of your favourite essential oil to your homemade Holi color. Your loved ones will fall in love with you another time.
Safety measures for Holi 2022 during the pandemic
Like last year, 2022 Holi will also be played under the gloom of Covid-19. Apart from various other basic hair care and skin care preparations, you need to follow various other parameters for a safe and corona-free festival.
Don't forget to wear your mask. It's your best anti- coronavirus companion.
Avoid playing the festival in a large gathering. The lesser the people, the safer it is.
Avoid playing Holi if you are feeling any weakness, flu, cough or cold. People with whom you are playing must also be free from these symptoms.
Don't let anyone remove your mask to apply color.
Wash your hands thoroughly before enjoying Holi delicacies.
Wear a new/ washed mask after you are done with colors.
Wish you a cheerful, safe and healthy Holi!