Are you searching for living room wall decor ideas? If you wonder how to turn your living room's empty wall into a grandeur, we are here to share the best ideas with you.  It does not matter whether you live in a villa or a small apartment; everyone wants their house to look the best. You can bring creativity to those empty walls to give them a feeling of home. One spends a lot of time in the living area, so it should look great and need to be appealing and comfortable to the eyes. From modern to traditional paintings, there are various ideas you can consider for your living space.
However, many people like blank walls, but sometimes it can also be boring, especially when you have no color in your house. So, do you wish to bring unique ideas to your house? The living room is one of the most visited places in the home, which is why it is so special. It is where you can relax with your family, spend quality time, watch movies, play games, and many more. Scroll through the mentioned living room wall decor ideas and make it look classy.
What Can I Consider For Living Room Wall Decor Ideas?
If you think your living room needs a complete makeover, you can start with a few pieces of artwork. But do you know where to start? Start thinking of what you would want to see on the walls as you walk through space. Generally, people choose collages of images, personalized paintings, etc. It is also one of the most adapted living room wall decor ideas.
Sometimes, all it takes is a piece of bright color artwork and painting to make the simple wall look colorful and joyous.  Other than that, you can also apply DIY options, framing flowers, painting, adding photographs, and many more. However, there are many ideas you can go through to add spark and creativity to your living wall area.
1. Custom Pressed Plant Frames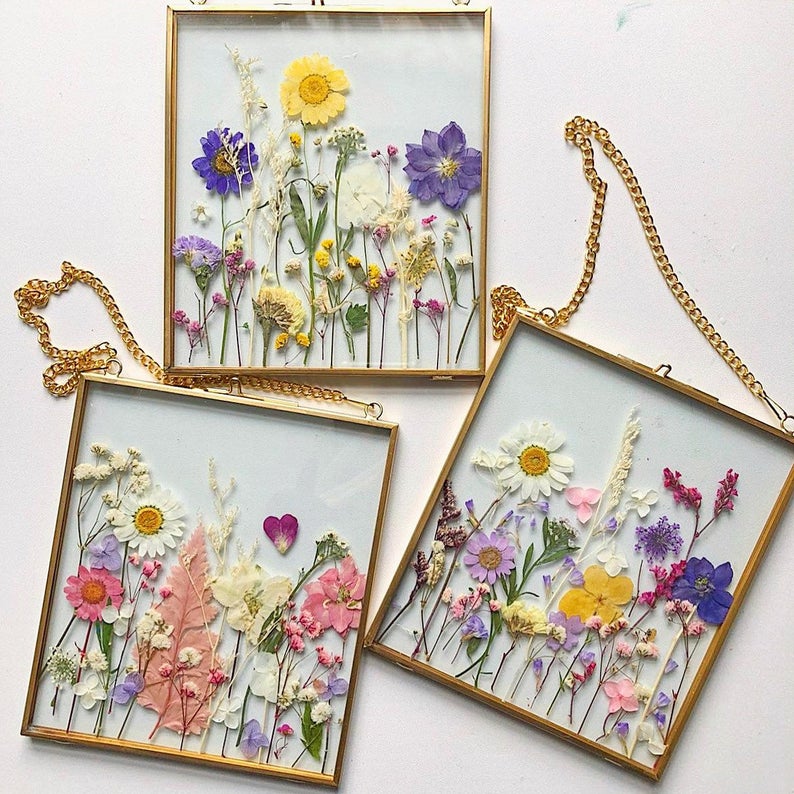 Custom Press Wall Art Frames at Etsy
Many people prefer plants as much as they can to build a strong emotional connection in their living area. When you add a bouquet to your house, it spreads a positive vibe. There are various forms of home plants, and it also comes in hanging options that you consider for your wall. Other than that, if you receive flowers from your loved ones, you can use the leaves and customize them in a beautiful form to keep them as a memory.
2. Marble Glass Artwork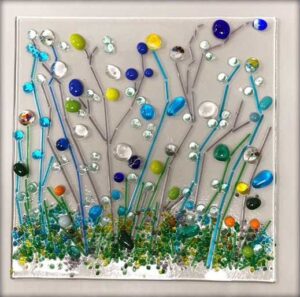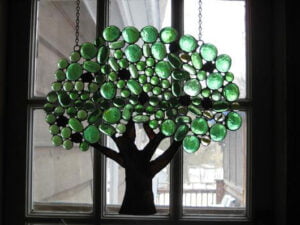 4 Season Tree at
DelphiGlass
Marble artwork is one of the best DIYs to decorate your living wall. Mix the watercolor, and put it on the white paper. When the painting is finished, dry it. It will look like a marbled artwork that you can hang on your living room wall. There are different types of marbles art, such as cracked glass marbles art, flat marbles art, etc. Besides, you can also use real marbles to decorate your wall in the form of hanging canvas, art piece and many more as per your imagination.
3. Metallic Wall Art Frames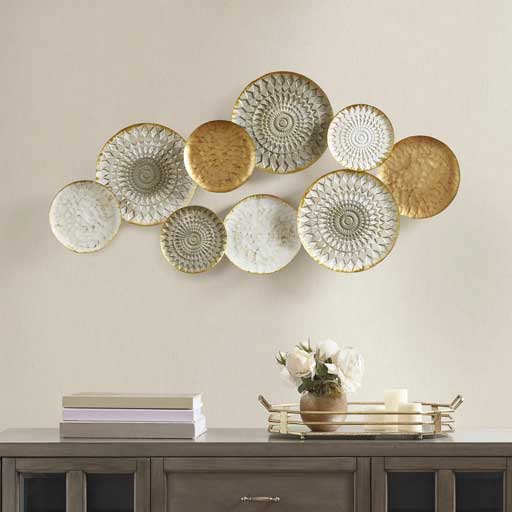 Metallic Wall Art Frames at Overstock
Metallic wall art frames are one of the best choices for empty walls in the living room. You can turn your imagination into metallic pieces and style your living space as per your own. Not only they will look classy, but they also complement all the forms of decorating, match every color, and you can cherish all the memories sitting in your living room. Other than that, the metallic wall art frames give a sleek and clean look with an ultra-modern touch that attracts the people's attention coming to your house.
4. Canvas Wall Decor
It is one of the best living room wall decor ideas. It is a simple yet elegant style to decorate your living space. A woven wall hanging with simple canvas print makes the wall look aesthetic and pleasing to the eyes. To make it look attractive, you can choose neutral tones, so it can be the perfect example of a bohemian living room area.
5. Add Iridescent Mirrors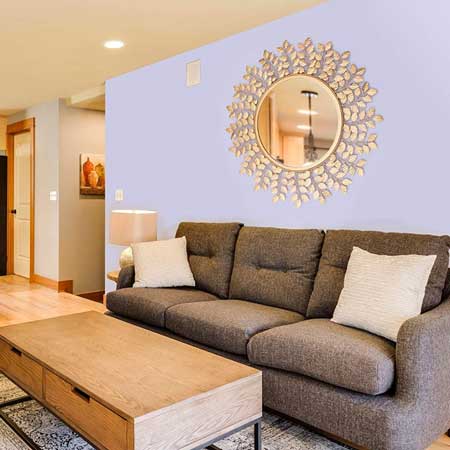 Available at Amazon.in
Check Price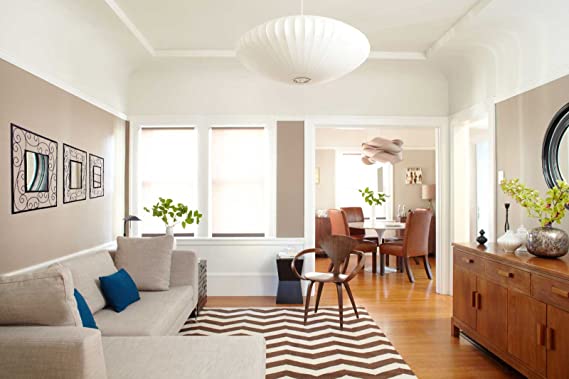 Available on Amazon.in
Check Price
You can make use of iridescent mirror objects to decorate your living space. It is one of the best color options that enhance your space. You can add it above the wooden fireplace. Other than that, a traditional mirror is one of the best ways to invite light into the living room to make your space look large and beautiful.
6. Use Small Objects
Small objects are one of the other ways to decorate your living room with. You can organize colorful books, small objects, sculptures, decorative boxes, and shelves. Overall, it gives a beautiful look and makes the space look artsy and different. Wall hanging plants are another option to decor your room. It can be one of the best investments that will bring positivity and make you feel fresh.
7. Inspirational Wall Quote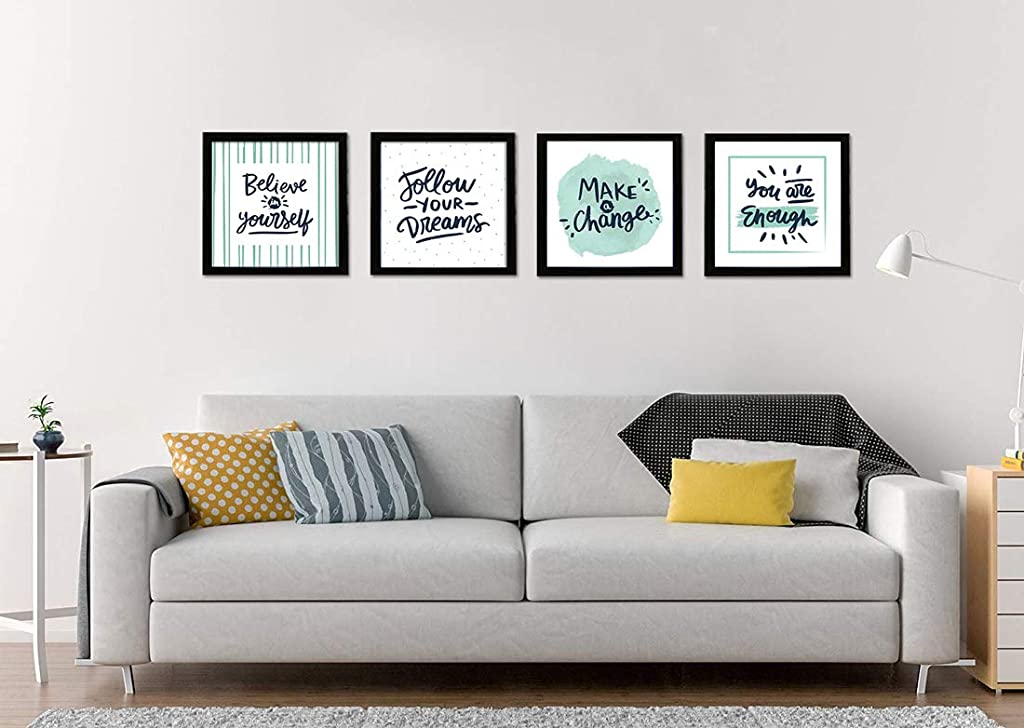 Available on Amazon.in Check Price
Do you want to surround yourself with positivity? What about decorating your living room with your favorite song lyrics? You can turn your favorite poems, thoughts, and songs into wall art. It is one of the closest things to many people that keeps them motivated and positive throughout every day. It also reflects a person's personality, and if you surround yourself with positivity, you feel happy and refreshed.
8. World Map Wall Art & Decor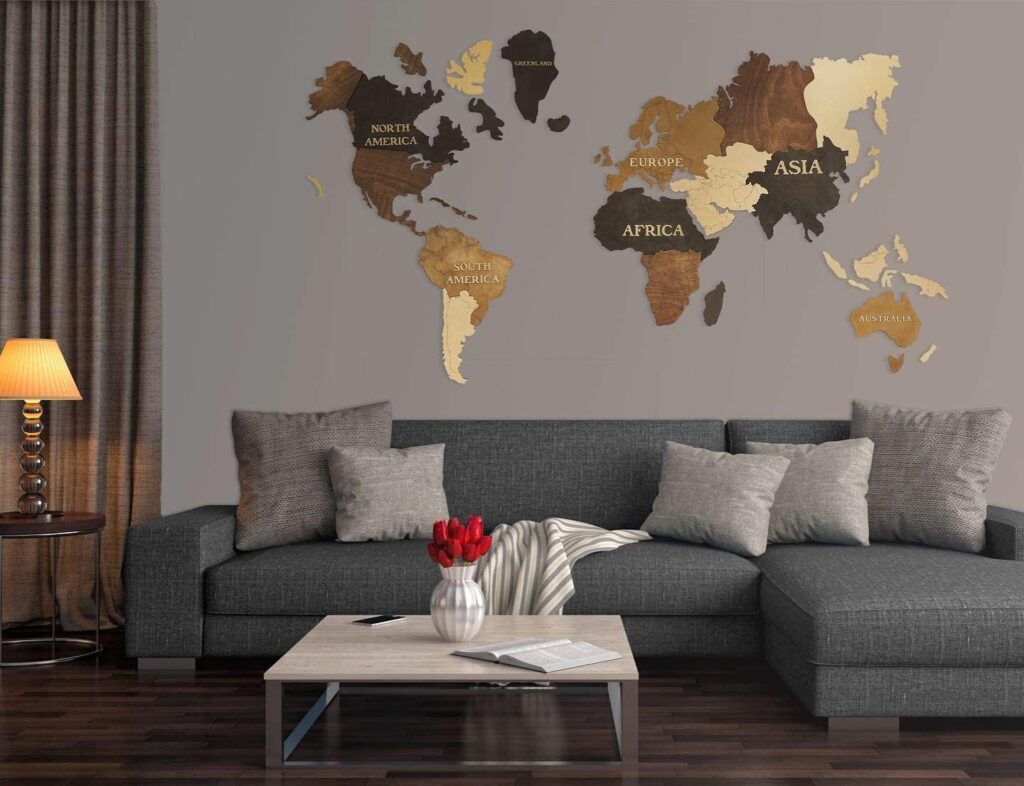 Available at Amazon.com Check Price
If you love traveling, you can decorate your home with maps that are meaningful to you. To make it look more attractive, add a glass frame, and your map will turn into a sentimental and stylish decor. However, there are many other diverse ways to outline living walls with your map collection. You can also customize a wooden world map to match up with your wooden furniture. It adds an organic vibe to the environment that makes it look sophisticated. Or, if you are a colorful person, choose a colorful map for decor. Keep the entire living pace neutral and introduce the world map with happy splash colors.
9. Small Sculpture
Do you love mixing different patterns and colors, and sculptures? If yes, you can add small colorful sculptures to your house that not only look aesthetic and pleasing to the eyes but also make your space unique and a souvenir. In addition, you can also add vintage decor pieces. If you do not have vintage pieces, you can buy small pots, toys, or items that compliment your environment.
10. Showcase Exquisite Fabric
It is one of the oldest and best living room wall decor ideas. You can choose to showcase any piece of cloth or fabric that looks different to you. It adds a sense of softness and warmth to space. Some of the best options are vintage scarves, textile painting fabrics, or even framed paintings. The best part is, it is easy to remove, and you can wash it whenever you want to.
11. Use Fairy Lights
Who does not love fairy lights? It is probably one of the best and most ideal objects to decorate your living room with. Fairy lights are tiny string lights that have bright bulbs made up of copper wires. It can be used for various DIYS than you can imagine. Some of the best ways to do it are by stringing picture displays using fairy lights, putting them in a jar for an aesthetic look, decorate your mirror with it, making a DIY chandelier using fairy lights, or put it into lighted words. Much more can be done by using fairy lights, making everything look magical and beautiful.
12. Large Scale Art Piece
Decorating your living room wall with an oversized art piece is not a bad idea at all. It grabs attention every time you enter the lying room. You can decorate with an old painting or a photograph that you clicked, and it will turn out to be a great wall decor idea for sure!
13. Decorate It With An Accent Wall
Are you tired of your dull wall? Try adding bright color to walls! If you love painting, you can add colorful paintings to decorate your wall. Or try to follow a pattern or theme to make it look astonishing. It makes everything look organized and creates a sense of art, warmth, and including. It is one of the best living room wall decor ideas that creates a bigger impact in a smaller space.
14. Mural Wall Art Painting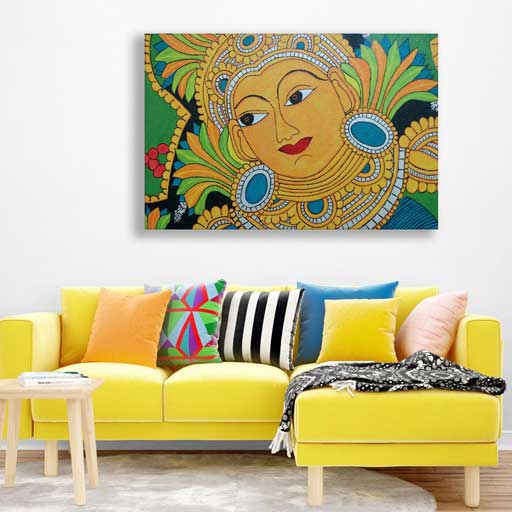 Kerala Mural Art Wall Painting at inephos
When it comes to mural art painting, there are multiple options to choose from. Mural painting is more about the natural element, which adds depth and texture to the wall that makes it look bigger. It is one of the creative takes when it comes to living room wall decor ideas. So, if you choose to adopt these wall decor ideas, think out of the box and choose something with which you can relate.
15. Bring The Outdoors Inside
Artificial plants or decor is a great choice to decor your wall with. You can go all tropical, which is one of the best options during summers. You can also add original plants; it adds life to space by giving natural touch. Some of the best plants for house decor are Amazon Lily, Fiddle-Leaf Fig Tree, Jade Plant, Kentia Palm, Split-Leaf Philodendron, Snake Plant, etc.
16. Design Art From Junk Mail
You can create everything in an art form. Take our favorite magazine, and cut the pieces which you want to use in the art form. Suppose you want to be more creative. You can add pages from your favorite scrapbook or magazine and put them together to form a poster photo collage. Add it to your living room and feel the change. It is one of the best artforms you can apply without spending any money. It is one of the ideal living room wall decor ideas, suitable for every house.
17. Panoramic Wall Art
Available on WallMantra Check Price
If you have a bigger living space, consider this one of the best ideas to decorate your living room. Panoramic wall art is the term, which can be used to describe contemporary works by using large paintings. It allows the viewers to feel the image as if they are inside it and live the moment truly by themselves. It is the magic that these kinds of paintings can create. Add this magic to your living room, and see the change you have wanted to feel for a long time.
How To Choose The Right Item That Matches The Living Room Walls
1. Consider Your Furniture
If you plan to decorate your living room walls, consider the type and color of the furniture in your living room, and know how you can arrange them. Many people want everything neutral that marches match up the environment, so it is highly important to consider it. If you have ample space in your living room, you can divide it into different sections, such as a corner where you can read or a corner where you can study. It will make it a lot easier for you to decide on the items you are looking for in your living room space.
2. Kind Of Art
Empty walls look incomplete even if you have everything in your house. However, there are various types of art forms, and if you plan to choose one to decorate your house with, you should always choose the one that brightens up space. Every person has different perceptions, so always follow your instincts and see what goes the best with your living room.
3. Focus On Wall Colors
If your paint color is dark and bright, choose something subtle that looks good with the paint color. However, if your paint color is neutral, you can choose bright items for your wall that match up. So, choose your pieces wisely and then decide the color based on the walls.
4. Measurements
Knowing the measurements of your living room's wall is one of the most important things to do. No matter what part you are focusing on, always take the measurements with you. When it comes to decorating a house, everyone wants the best to make it pleasing to the eyes.
5. Know Your Style
Once you have allocated everything, know what you truly desire to see in your house. Choose the right style that matches your personality because it is one space where you will spend much of your time with family.
6. Choose A Color Pattern
If you plan to make it look aesthetic, it is time to choose the color pattern. Your room may be a lot different than your living space, so think of the items you want to see in your living room and how you can decorate them. If you are worried about colors, lighter colors are the best options to go with.
Conclusion
Your living room is the first thing people notice when they visit your house. So, who does not want to make it perfect? You can consider the following living room wall decor ideas to infuse the space with positive energy.
Frequently Asked Questions (FAQs)

1. How can I decorate my living room wall space area?
There are multiple ways to decorate your living room wall, such as hanging plates, creating a gallery wall, adding photographs, showcasing various fabrics, installing shelves, and many more.
2. What are the ways to decorate small walls?
Ans: You can decorate your small walls by adding wall sculpture, hanging family photos, using some hanging plants, and an exquisite painting. These are some of the best living room wall decor ideas.
3. Where do I start to decorate my lying wall space?
Ans: You can start with choosing a theme if you want to. Design a layout, keep everything neutral, not so bright, and not so simple. If you are looking for some inspiration, you can use the space to build your spirits up.
4. How can I make my living space cozy?
For a cozy environment, you can add up natural wood, use large-scale photos, consider historic architecture, add exquisite wall painting, etc.
5. What is the best color for the living room?
Blue is considered to be one of the best colors for the living room. It represents a calming and stabilizing effect and makes the area look attractive and appealing.
6. How can I decorate a large blank wall?
You can use the large blank wall for creating a statement, hanging a rug, adding floating shelves, putting playful displays, utilizing height, and many more.
7. Do every living room's wall need decor?
It is totally up to you. If you have already put wallpaper on a few of the walls, it is not required to add more color or decor. Besides, if it is completely blank, you can add up different things on each wall to make it unique and beautiful.
8. Do I have to match all the frames of my living room?
It is not necessary to match up every frame in your living room. But if you want to keep everything similar, go with choosing a neutral color.
9. What can I do with blank walls?
You can either keep it simple by adding a few frames. To give it a more aesthetic look, add dramatic color, add Getty images, create graffiti walls, add more mirrors of different shapes and patents, etc.
10. How can I decorate my wall at a cheap cost?
You can visit various thrift stores where you can buy items in bulk. Some of the best things you can get from there are hanging fabrics, artsy frames, pots, quotes, etc. Besides, you can also decorate our wall with the book you already own.