Telemedicine was always around for 30 years but was most popular during COVID19
COVID19 wave changed the picture of the life course and in the surge of finding solutions for health solutions, came the telemedicine support system and took over the healthcare facilities in a very responsible way.
Telemedicine app development is an innovative technology that provides online health care solutions and helps patients in many ways. It was always around for the last 30 years and was in regular use by a few healthcare firms but was most popular during the pandemic.
People worldwide appreciate the telemedicine service as it has proved very beneficial for the population at the receiving end.
What could be better than receiving an excellent healthcare facility right sitting in your own comfort place, getting consultations and guidance from the best doctors in the stream, checking on your health update along with the assigned doctor, and marking the progress?
Embracing the new normal, say hello to your specialist at your convenient time
Certainly, a big-time saver, what could be better than consulting your physician through your mobile phone, tablet, or laptop at the very moment you require the telemedicine service.
If your little one is caught with a cold or flu, someone is down with viral, migraines, or infections any minor or critical health issue like psychological help, mental health care, stroke consultation, etc can be digitally diagnosed and can be treated well.
Well, your clinics have limited-time access and are closed shut at a specified time.
It becomes difficult to approach a doctor after the doctor leaves the clinic. Now we have wider opportunities through telemedicine technology to get in touch with the doctor at your convenient time and get medical help.
The various medical apps connect you to many medical platforms from where you can get the best medical services and it can prove a life-changing opportunity.
Virtual care was never so attractive and efficient its a pleasant experience
The communication technology like the video or audio connection of patient-doctor regarding medical health issues and the resolvent of the medical matter through an electronic medium is virtual care.
The video meeting or consultation of a medical expert regarding critical health situations be it from primary care to critical chronic conditions. The registered and certified team of doctors along with the assigned nurses and clinical staff take huge responsibility to get the patient out of the medical condition and provide the right treatment and medicines through an online mode of communication.
Some of the essential benefits of telemedicine are:
Effective healthcare cost
Immediate access to medical help in an emergency situation
Time-efficient, much of the doctor-patients travel time is saved
Patient satisfaction with health progress can easily monitor health data
Health data security
Special consultations or second opinions from a medical expert is easily available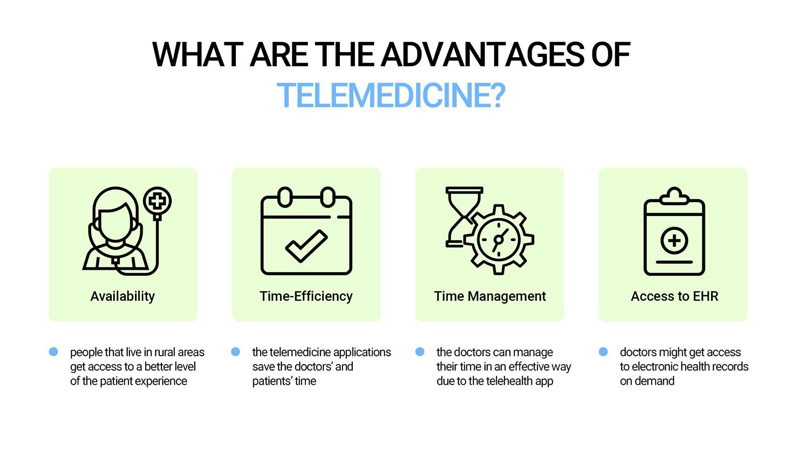 Some important features of telemedicine apps that have proved very beneficial
1. Quick patient registration
Patients can fill in the case information and history, previous prescriptions, allergies to any medicine if they have any, medical records, health insurance data, picture of the patient, and verification data, and the registration process is done.
The patient is ready to get an appointment with the assigned doctors in the app according to their preference and get the virtual health treatment.
2. Personalized user-friendly dashboard
The patient's dashboard is simple and easy to access with medical data records, updates on cases, history of patients' sittings and key points on the consultation, Patient's specific health concerns, and Insurance information.
3. Doctors portfolio
The telemedicine app features doctors' profiles with detailed information on the doctor's qualification, specialty, area of specialization, experience, availability timings, appointment scheduling, and FAQs on subjective matters, online chat options to contact the doctor in case of any doubts need to rectify.
4. Appointment schedular
The appointment schedular and calendar feature provides the option to fix a doctor's appointment according to the patient's preferred time. Appointments can be cancelled or rescheduled if required.
5. Video/ Audio consultancy
Telemedicine offers online solutions in video or audio format for consultations with authorized security data options. The convenient exchange of patients' information through video conferencing is recorded for reference and case tracking purposes. Offline video consultancy is also offered by an authorized physician, where the key points of case-related concerns are recorded and saved for the user to access if required.
6. EHR integration
EHR digitally stores all pathological data of patients. All blood reports, test reports, radiological images, prescriptions, etc. It immediately helps physicians to track the medical records and apply further treatment commendations.
Along with the telehealth billing other aspects like data security, easy and early diagnosis, cost-effective telehealth solutions, telemedicine billing options, and integrated payment systems are a few features EHR integrates into telemedicine.
7. E-prescription
Faster health care solutions are provided to the user through the e-prescription feature that telemedicine offers. Telemedicine regulations like  Health Insurance Portability and Accountability Act (HIPAA), and EPA (Electronic Prior Authorization) allow doctors to produce and prescribe medicine through the e-prescription feature.
8. Easy Payment modes
The integrated payment methods are accessible from any mobile phone with registered numbers. Safe and easy payment methods with secured data, Automated invoices and multiple payment options, a record of all payments done, discounts, and secured payment compliance are major benefits of telemedicine mode of payment.
Easy solutions for critical problems, telemedicine is here only to help
Artificial intelligence (AI) has become an integral part of telemedicine app development technology. The medical stream is highly dependable on the AI when it comes to implementing telemedicine treatments. Healthcare providers get time to attend to more patients with better coordination.
Accurate diagnosis and health records are remotely checked and studied by the healthcare experts and immediate treatment is applied saving ample time.
Constant updates in the telemedicine application programs make it a safe step for everyone to follow and get the best results. Telemedicine is the smartest step toward the health system globally and is definitely here to stay.