So here I am, the morning of the 31st of March, in my own bedroom. Devika is sleeping right here beside me and I don't know what to make of it. The situation is indeed problematic; if I were any younger, I could have managed, I suppose. What could I possibly do right now? All my thoughts seem inadequate and last night seems like a whirlwind now.
Maybe I should start by introducing myself and explain to you what has actually happened. My name is Vijay Kelkar; I am an I.A.S. retired senior citizen. I reached the sixty-seventh milestone just yesterday, the 30th of March. I live alone in my beautiful apartment just as my beloved wife left it, she had a marvellous sense of aesthetics and that's why I have maintained the house as she decorated it. Sadly, she passed away five years back and after continuously remembering and missing her with pain in a couple of years just after she died, I finally accepted that she must have gone to a better place and would want me to be happy here, in this world. She was a wonderful companion and a strict mother: I have two sons, both of them are independent and live in other cities and they are busy with their families, their lives.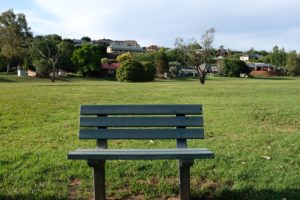 How do I pass my time? Well, apart from managing the house and life, I have a group of friends in this colony where I live. It's a so-called posh colony, quite swanky, with nice parks, big houses with lawns and greenery everywhere. We often meet in the parks and we talk amicably, freely about everything that happens in the world. All of us have some issues, some problems, it's a fact of life, but we face them as bravely as we can. The truth is that at this stage in life most of us are rather relaxed and we tend to take everything easy.
Approximately a month ago, my friend Vasu, who lives two streets away, came to the park in the morning and told all of us that he heard some harsh fighting voices from the apartment below him where a Mr. Bijlani lived with his wife, Devika. He also informed that their only son apparently works and stays in the U.S.A. Mr. Bijlani is younger than all of us by at least five years, I think; he doesn't join us in the park. Vasu also heard Devika crying. I had seen her many times; she was always dressed in a beautiful saree with a big red bindi on her forehead. I was told she was a classical dance teacher who used to train young girls at her home studio some years back and certainly, and her movements seemed as graceful as a dancer. We would smile at each other whenever we crossed each other's paths in the streets or the market. But I don't know why when Vasu told him he heard her crying, and I felt tremors in my heart. At my age one cannot be sure, but I do not have any heart ailments for sure as I had gotten myself examined just a few months back. This means that I felt emotional about what she must have been going through; her state must have evoked sentiments in me to affect me in such a way.
From then on, the stories Vasu told concerning the Bijlanis would leave my heart quivering with the crying being repeated almost every other day, even sometimes in the dead of night. I found myself thinking about her involuntarily and feeling bad for her; I even re-routed my fixed walking schedule to pass by her house. I never met her or saw her until the day before yesterday, the 29th of March. As I was passing by, I saw her standing in the street buying vegetables from a vendor cart. Our eyes met and I kept looking at her: she looked tired, exhausted and vulnerable, the kohl from her eyes smudged at the corners. I stood in front of her, touched her shoulder and asked, "How are you?"
Just to inform you, the Bijlanis and I barely know each other, to talk of having any kind of relationship beyond greeting each other on the streets. But yes, we have been residing in the same colony for many years now.
Mrs. Bijlani's eyes welled up, she took my hand in her hand and its warmth spread to each corner of my body. I sort of embraced her from the side and told her, "I am here for anything you need." Then I left but her presence lingered all day long in my heart and mind, and it was surprisingly reassuring. I usually slept that night but the first thought I had on waking up was about her. I called up Vasu and asked him about the Bijlanis. He said that he had not heard or seen anyone from below since the day before: it was all quiet. I felt better.
It was my birthday on the 30th, so my sons and their families were going to video-call me, as is customary in this modern world these days. I dressed up in a new raw silk kurta-pyjama set, as my wife would have wanted me to and looked forward to talking to my grandsons and grand-daughters. They called up in the evening; it was a big messy online family meet as they had merged all their calls with mine, so we were all at the same place virtually. As I was talking to them, I also received their gifts and cakes via courier. I cut the cake in front of the webcam, thanking them for the efforts they had taken to celebrate my birthday. It wasn't bad.
At eight in the night, I ate a light dinner and as I was hooking up the television for some o.t.t. entertainment, the bell on the door-phone rang. Someone was at the main gate in the parking, ringing my bell. I pushed the door-cam button to see a woman standing there with her back to the camera. "Who is it?" I asked.
She turned her face towards the camera and I saw the big red bindi on the forehead. My hands pressed the button to open the main door automatically and I swayed my apartment door open to let her in. She came inside, and she looked at me. We said nothing; I took her hand and made her sit on the sofa comfortably. There was something tying us together: an understanding, a connection, a bond. I made her some tea and fed her some cake. When she asked me about the cake, I told her about my birthday. She said she was sorry for bothering me on my birthday. Then she was unresponsive and lost for some time as we sat on the sofa while I held her and wrapped her fingers with mine. She had tears flowing from her eyes like pearls and she murmured, "I have nowhere to go… my heart is broken…" After an hour or so, I told her to get up and took her to lie down on the bed.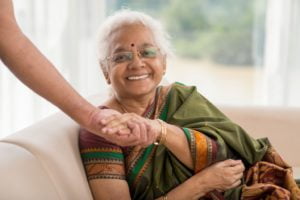 As I helped her tuck-in, she looked at me for some moments and embraced me tightly. I felt an electric sort of attraction towards her. After a while, I found myself kissing her on the neck. She clasped my hands with hers forcefully and turned her face towards me. Her face was gleaming, her big, expressive eyes were searching my face, and I couldn't help myself kissing her on the lips; she kissed me back, and it was a joyous moment, a profound pleasure and a relief at the same time. Then both of us lay together on the bed in each other's arms all night. We don't know when sleep overcame us.
I thought I wouldn't be able to but I have told you everything that has happened till this morning. I was perplexed, yes, but I guess talking to you has helped me. She still sleeps beside me and I am ready to face any challenges that may show up in the coming days. I feel nothing but love towards her. I want to protect her. It's evident she needs me and in the deepest of my heart, I know she loves me.