Accessories are an important part of our outfits and can have a major impact on our looks. The right accessory is all you need to turn your look around and give it that much-needed oomph. Now, while there are a bunch of accessories you can choose from, jewellery, and especially neck-pieces, are the easiest to style.
However, heavy necklaces are no longer required to make a statement; the jewellery fashion industry has shifted from bulky neckwear to minimal neck chains. These simple pieces elevate your looks without taking up too much space in your outfit.
Neck chains are popular right now due to their delicate design and sleek appearance. These simple jewellery pieces ensure that the focus is not drawn away from your outfit and complement it cohesively. Moreover, with the vast collection of neck chains offered by Mia by Tanishq, you have the flexibility to style your favourite look in different ways.
While styling these neck chains is fairly simple and straightforward, there are a few things to keep in mind to get the best look. Here are three ways to wear neck chains to give your outfit just the perfect amount of bling! Read on.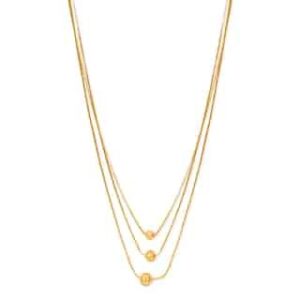 For the Winter
As the mercury drops, we're all set to pull out those warm sweaters and cosy jackets. While winter fashion is stylish and chic, finding the right accessories for these clothes can be tricky. But contrary to popular belief, styling a neck chain for the winter is a lot of fun! This is the time to get creative with your jewellery styling and layer your neck chains over your clothes for a chic look.
Wear your neck chain over your favourite turtleneck sweater to achieve a stylish look. It is important to note that the pendant's length should be appropriate, and the chain should be a little wider so that it is clearly visible on top of the sweater.
For the Summer
A neck chain is an ideal summer accessory. All you need to elevate your summer look is a thin chain with an eye-catching pendant. To style it, wear something light and flowy, such as pastel spaghetti, under an unbuttoned white shirt. Finish the look with your favourite denim shorts and summer sandals.
Opt for a silver pendant with a chain with this look to add some cool tones to beat the heat. The pendant with chain can be short in length so that it ends exactly where the neckline of your top begins, keeping your outfit from looking cluttered.
With Ethnic Wear
Indian clothing is typically heavy and intricately embroidered. These outfits are statement pieces in and of themselves, so no chunky jewellery is required to complete the look. As a result, neck chains look great with Indian outfits.
Because gold has always been a prominent metal and gold jewellery has been loved by Indians for a long time, a gold neck chain goes flawlessly with Indian wear. To create a balance with your outfit, the pendant of your gold chain should be simple and minimalistic.
Make a Wise Choice
We've all seen neck chains in the market in a variety of places, both online and offline, but the quality and design of these pieces aren't particularly impressive. They may fade, break easily, or irritate your skin due to the low-quality material. To avoid all of these blunders, only buy neck chains from reputable jewellers such as Mia by Tanishq. With an impeccable collection of carefully curated designs, Mia by Tanishq is the place to shop for neck chains.