If You're planning for the 1st birthday of your little munchkin, you'll have to work harder to organize everything for this special occasion! You will want to have a memorable 1st birthday party for guests for years to come. You have to decide everything related to this party whether it will be a decoration or the party theme.  Also, you are scorching your brains as you select different and practical birthday return gift ideas for guests. For little guest kids, you have to find exciting yet useful birthday return gifts for them.
If you are clueless about the return gift idea for the 1'st birthday of your child, Inforanjan will suggest unique and wonderful birthday gift ideas for your child's first birthday party.
1. Cartoon Characters Mugs
It is the best return gift idea for guests aged 2-8 years. Kids will love to drink health drinks or milk in these colorful mugs filled with their favorite cartoon characters. The lightweight mugs will bring more joyful and funny mornings to kids' yummy breakfast.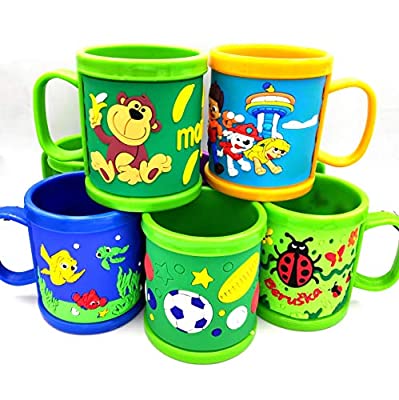 The key features of this Cartoon Character Mugs return gift are :
Available in set of 6 multicolored mugs.
These mugs come with funny rubber carton prints and bright colors.
Mugs can be used every day as they are lightweight and easy to hold.
All mugs are safe as they are made with high-quality durable plastic.
2. Piggy Bank
Kids who want to save their pocket money uniquely will be happy to have this beautiful return gift. Suitable for 3 to 8 years old children. This Wood House designed coin bank, will teach kids to have value for money in a fun way.
The key features of this Wood House Piggy Bank return gift are :
This gift set available in a pack of 6 return gift items.
The wood house has a cut-out of the animal print on the front along with a coin slot roof.
Easy to open as the colorful wood house has a removable lid at the bottom of it.
3. Kaleidoscope
You can give this educational gift to those kids who love to use their imagination while playing with toys. Kaleidoscope can help to stimulate kid's imagination and creativity with different styles of patterns. This birthday return gift pack contains 12 pcs of Kaleidoscope from Asera brand.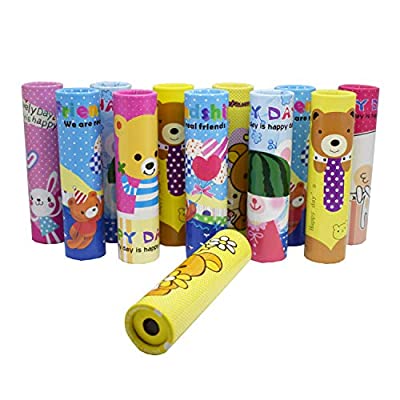 The key features of this gift item are :
As kids rotate the kaleidoscope's head, they will see the various exciting pattern through its hole.
Kaleidoscopes printed with cartoon characters.
The educational toy is suitable for kids aged 5 years and above.
4. Wooden Photo Frame
Make your return gift a memorable piece with a cute-looking wooden photo frame.  Guests will fill this tabletop photo frame with their cute kids' photos which they will love to place on their study tables.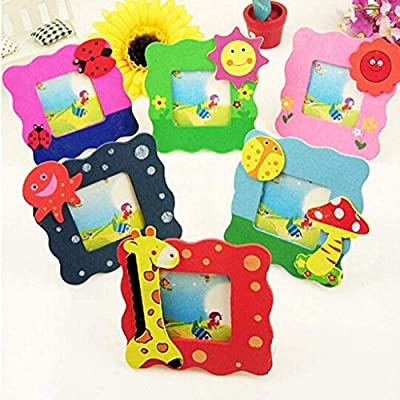 The key features of this return gift item are :
Available in a set of 5pcs and 10 pcs from SillyMe brand
Eco-friendly gift as it is made with wood.
Lightweight
The cute kid-based photo frames feature bright colors and fun animal designs.
Homemade finishing
5. Pen Stand Holders with Photo Frame
It is a perfect return gift for kids as they can put their stationery stuff neatly in this attractive pen stand holder. Kids can also place their cute photos on the attached photo frame slot.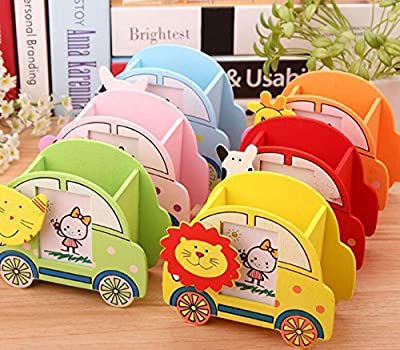 Key features of this Pen Stand Holder gift item are :
Available in a pack of 6 Pen Stand Holder with Photo Frame slot from Arvana brand.
Pen holder made with high-standard wooden material.
Lightweight, sturdy, and durable
Pen holders come in a unique car design with the attached photo frame slot.
6. Cartoon Printed Haversack Bags
If little guests are school-going kids, those bags are the perfect return gift items for them. The colorful printed bag is easy to carry and kids will have fun while carrying them on their shoulders/ backs.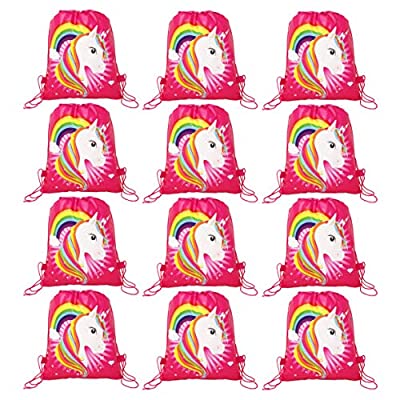 Key features of this recommended cartoon printed haversack bags gift item are :
It is the set of 12 bags from Parteet brand.
The bag has the unicorn printed character on the front of it.
Lightweight
Made with the non-woven fabric
7. Smart LED Watch Bands for Kids
Make kids smart with these attractive LED Watch Bands with silicone straps. The size of the bands can be adjustable to fit in kids' hand.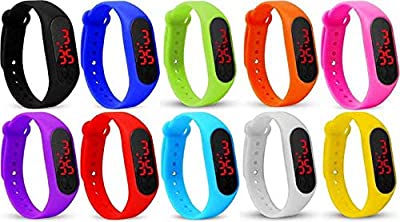 Key features of this smart LED watch band item are :
Available in a Pack 10 pcs
Multiple vibrant colors with the Red display
Silicone straps
Sizes of bands are adjustable.
8. Water Game
Water game is the best return gift idea for kids. In this aqua game, kids can get little balls with the help of hoops as they press the button at the bottom. This game is useful and fun for those kids who get bored.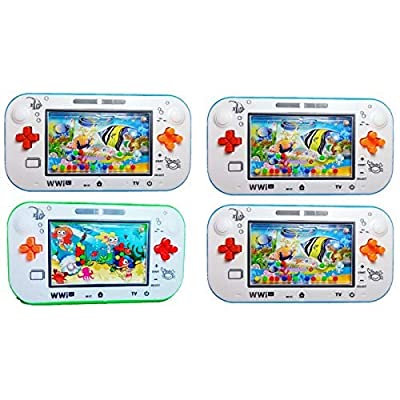 Key features of this recommended Water Game are :
6 multicolors water games bundled in this return gift deal
Easy to carry and portable for small kids
The game helps kids to make a right hand and eye coordination while playing it.
Stress-buster and joyful game
9. Spinning Top Toy
This powerful spinning top toy will boost kid's concentration and they can have fun with friends by challenging each other to beat the spin time.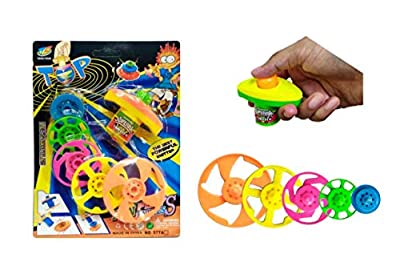 Key features of this Spinning top toy gift item are :
10 sets of multicolored spin toys are available in this fabulous deal at Amazon.
Each set provides 2 tops and 1 launcher.
The toy helps to produce creativity, concentration ability, calmness among kids. Helpful for those kids who have anxiety issues.
10. Plastic Water Bottle
Made with non-toxic plastic material, the smiley water bottle will bring a smile to your little guests. This easy-to-carry return gift is the ideal gift for school-going kids. The attractive gift set contains 6 bottles.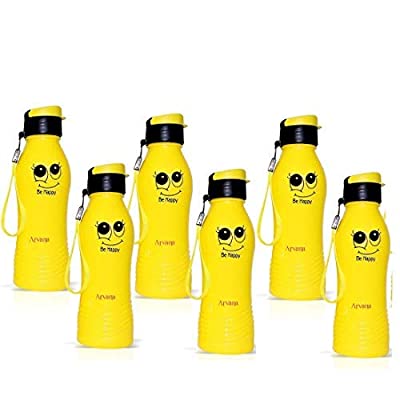 Key features of recommended smiley plastic water bottle are :
Safe, non-toxic plastic material
Funny smiley prints
Bottles are safe to drink due to their wide mouths.
Bottles have lock-protected lids.
11. Pencil Pouch
A pencil pouch is the right return gift for school-going kids as it can protect their important school stationery items in this waterproof cartoon-printed pouch.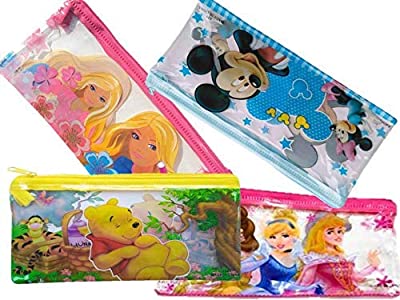 Key features of cartoon printed pencil pouch are :
Made from

high-quality durable Plastic material

with waterproof, the pouch can protect items from sand or water.
Available in multicolors.
Can carry it separately or put it into the tote bag.
Comes with funny, kids-favorite cartoon Disney Princess, Cars, Mickey Mouse, Minnie Mouse, Frozen, Cinderella, Belle Princess, Moana, Tsum Tsum, Marvel Avenger and Marvel Spider Man prints.
Metal zipper
12. 3D Stickers
You can give these beautiful 3D stickers to those kids who are fans of Elsa from Disney Frozen. The set of 10 sheets filled with various types of fun designs and colors is a creative gift for kids who love to play with animated characters.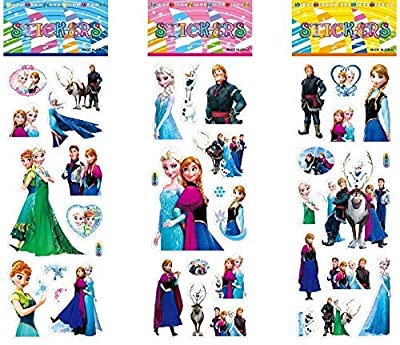 Features of Frozen Elsa Theme Cute 3D Stickers are :
The set has featured 10 sheets of 100 stickers with lively animated characters.
Stickers are non-toxic to kids' skins and made with high-quality materials.
Easy to stick and peel stickers. Can be used for marking, playing games, scrapbooks and greeting card making, etc.
The 3D stickers promote creativity and imagination ability among kids.
13. Sketch Painting Water Color Kit with Paint Brush
Give this exciting return gift to art lover kids as they will pass their time by coloring everything with these 12 watercolors.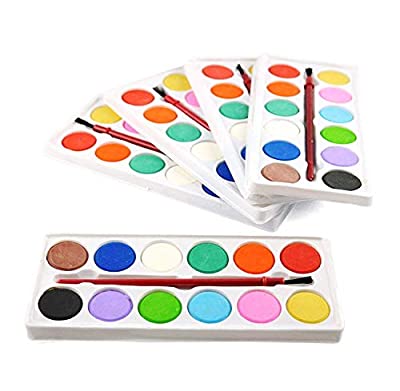 Features of this recommended return gift item are :
All watercolors are non-toxic and safe.
Each Acrylic palette comes with 12 watercolor cakes and the paintbrush.
The long-lasting kit is made with high-standard material.
Kids can use this amazing watercolor kit with different canvases and paint brushes.
14. Invisible Ink Magic Pen with UV-Light
Kids can write secret messages on any surface with this magic pen filled with the invisible link.  They can show these messages to others by throwing the built-in UV-light from the cap of the pen.  Give these amazing return gifts to kids to unleash their creativity.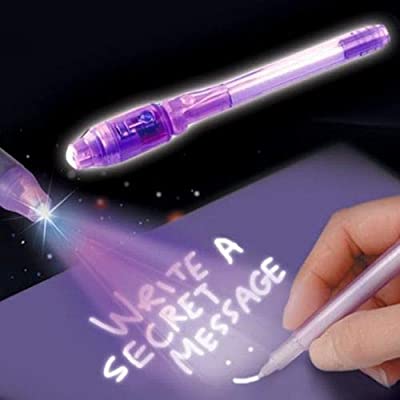 Features of Invisible Ink Magic Pen gift item are :
The set comes with 20 pens.
The pen can be used by kids for various fun activities such as surprise birthday parties, detective spy games, and sending secret messages to their family and friends.
Kids can write secret messages on any surface such as the skin, wall, and clothes.
Interesting colorful pens with built-in UV-light on the cap of them
UV-Lights are harmless and can be switch on by easy to push button.
15. Secret Password Lock Diary
This is a unique return gift as kids can write their thoughts, secrets, and other personal stuff in this private and password-locked diary.  Kids can scratch the secret code written on the backside of the diary. They can push buttons placed on the right side of the diary based on this secret code.  After pushing those buttons, they have to press the center button to open the diary.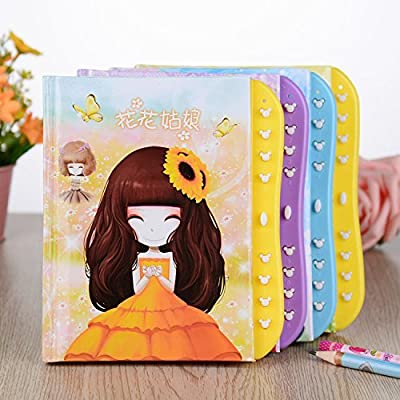 Features of Secret Password Lock diary are :
Six diaries with kids-favorite cartoon characters' prints
Encrypted secret code or password placed at the back of each diary
High-standard pages of diaries
Each diary features an innovative design with bright colors.
16. Scratch Art Magic Notebook with Wooden Stylus
Bring out kids' imagination, ability, creativity, and intellectual development with this educational return gift.  The Scratch Art Magic Notebook can be used to create notes, doodles, designs, and illustrations.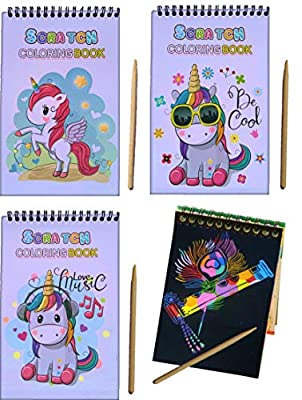 Features of Scratch Art magic notebook are :
Available in set of 10 scratch art notebooks
Every notebook comes with 8 pages filled with the matte coating.
Kids can scratch pages by the wood stylus as colors are hidden beneath them. Children don't need separate colors or paints to create anything in the notebook.
Kids can draw, sketch, jot notes, and draw colorful notes and designs in these notebooks. This educational gift is useful to grow kids' imagination ability as they can stay away from electronic devices for a long time.
17. LED Night Light Lamp
This is another unique return gift item that every kid will like. Kids will adore their favorite cartoon shape printed on this wonderful LED light lamp. The compact-designed table lamp can be used for decoration in the study room, kids' room, living room or kids' bedroom.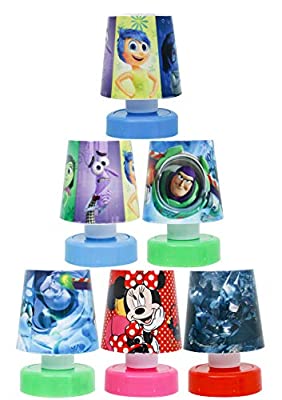 Features of LED night lamp are :
The LED Night Table Lamp comes in a pack of 6 units.
The light has a power supply from 3 AAA batteries.
Shockproof and safe
Easy to switch on and switch off, no wire required
Can be useful for those kids who afraid to sleep in the dark.
18. Stationery Kit
Every kid will accept this attractive return gift happily as the stationery kit is colorful and filled with their favorite cartoon characters. It is a useful return gift for little kids of ages up to 8 years.
Features of this recommended Stationary Kit are :
The stationery set contains 12 mixed stationery items.
Each set includes 2 pencils, 1 sharper, 1 eraser, 1 ruler, and 1 wallet.
Easy to carry
Attractive packing
19. Play-Doh Handout Non-Toxic Modeling Compound
Kids love to play with clay models. This exciting return gift will enable imagination ability and creativity in kids as they make different items with these molds.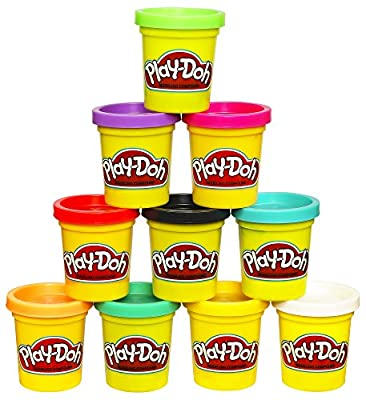 Features of Play-Doh modeling gift are :
10 2-ounce cans of modeling compound
Non-toxic and safe material
The packing is recyclable and easy to open.
20. Mugs with Cookie Slot
The cute return gift will brighten kids' morning as it comes with a funny cartoon character and a compact cookie slot.  They can use them for drinking juices, milk, milkshakes and eating cookies or biscuits.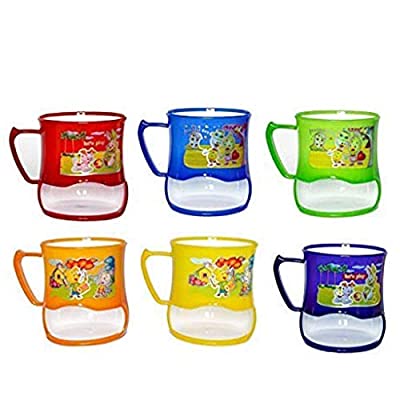 Features of Mugs with Cookie gift are :
Six mugs with the cookie/biscuit slot
These mugs are made with the high-standard plastic material.
Lightweight and easy to hold
Things to consider before buying the best return gifts for your kid's 1st birthday celebration
Gifts should be safe and come from non-toxic materials as they can allergic or harmful to little guests.
Chose return gifts ideas as per your budget. Don't look for expensive gifts.
It can possible that you would invite kids, not from the group of the same age. So, you have to choose return gifts by considering the group of average ages of invited kids to the party.
For a theme-based party, you can buy return gifts that suit the theme of the party.
Kids love cartoon characters, bright colors, and funny designs. So opt for colorful and unique return gifts ideas for birthday considering their ages.
Conclusion
We hope that you will think about our picks for the best return gift ideas for your kid's 1st birthday celebration.  Which will you buy for your guests?  Do tells us in the comment section below.
Disclosure:
This post contains affiliate links to products. When you purchase through links, we may earn a small commission, at no extra cost to you.