Parenting is not an easy task. As the world is becoming more and more technology-driven, monitoring children and the kind of content they view is becoming difficult. Today, even a 5-year-old child can understand and operate a mobile phone with ease. Kids today prefer mobile phones over physical and intellectual activities like playing outdoors and reading books. Mobile devices have captured the attention of these young minds and serve as a distraction.
As the children have easy access to the internet on devices like iPads or mobile phones, the probability of coming across inappropriate content is highly likely. This type of content can hinder the healthy development of the child's mind.
Censoring the content that a child watches has become prominent as age-inappropriate content is available on the web easily. The wrong type of content can affect young age demographics. This censorship helps in the healthy growth of children's perception of the world.
Parenting control software is an option through which you can control, block, and filter the content available to your children and nurture a safe and healthy upbringing.
Why use Parenting Control Apps?
Parenting control is a feature available across multiple devices like computers, mobile phones, and television that enables parents to prohibit access to certain content on the internet to their children.
Following are some reasons that you might want to look at while asking yourself why should I install a parenting control app or software on my child's device? 
1. Manage the screen time for your child
The addictive nature of mobile devices and computers has rendered people glued to the screens. For a child, such an addiction can be harmful to their mental and physical growth. Exposure to harmful rays coming from the device screen can weaken their eyesight. It might also cause bad posture and sleeplessness.
With parenting control apps, parents can limit the screen time for the children. They can also encourage them to perform outdoor activities like exercising or playing games. Outdoor activities result in a good flow of blood and thus contribute to good health.
2. Block and censor inappropriate content
The internet is a hub for all types of material available. The content is accessible to anyone at any given time with the touch of a finger. The possibility of your child coming across unsuitable content for their age is inevitable in the form of ads and pop-ups on unsafe websites.
There are reasons why some content is labelled as adult content because they are not to be viewed by children. It includes explicit stuff such as porn, graphic images, videos, violence, guns, and more. Parents can regulate and block such content by using parenting control apps and software on their children's devices and set it according to their age.
3. Safeguard your child from cybercrimes
With the increase in the usage of the internet, cases of cybercrimes are also increasing. At such a tender age, kids do not know better. In the excitement of sharing online every minor update about themselves, the children could end up revealing too much.
This shared information could be misused and lead to endangering their safety as there are all kinds of people on the internet. Thus, monitoring your child's activities on the web through parenting control apps is very important.
4. Protect your child from being a victim of cyberbullying
Cyberbullying is another dark side of the web. It is a factor that could result in the degradation of a child's mental health. They can easily become prey to online bullies. Often children are likely to receive remarks about their body and appearance in comments and text messages.
The internet can be a ruthless and toxic environment for a child. The thrill of getting likes and comments on their uploaded pictures keeps on increasing, especially in teenagers. They could idealize unrealistic beauty standards in their minds and try to be like that.
Keeping track of their kid's online activity helps parents to address such issues to their child. Parents can explain to children the negative aspects facts of the internet.
Such open conversations can prevent scarring their kid's young minds. They can also help their children with low self-confidence issues. Parenting control apps allow parents to know what type of things their children are viewing. It also helps to check their activities on social media.
5. Limit access to purchase features in games
The fun of winning every level with a perfect score in games is very addictive. Some games offer purchase features to win levels if you are unable to achieve them. Children can be naive and might spend money on these features in the rush of winning.
Some games even have features through which your child can talk with other players. These players are often strangers, which can lead to sharing personal information. Parenting control apps help parents to block purchasing features and also to protect their credit card information.
6. Keep a check on your child's search engine history
A child is continually learning and discovering new things. They might browse the internet to learn something they heard in their surroundings or for educational purposes.
Often teenage kids might also be searching about drugs, sex, suicide, and more. Parents can monitor such searches through search engine history using parenting control apps. It ensures that their children are not surfing on inappropriate sites.
Monitoring can help parents learn what the child is thinking. They can then guide them accordingly. It can prevent bad decisions taken by the child in the future.
Parenting control apps have great importance and can help shape your child's future. They also offer multiple features that aid parents in controlling children's exposure to digital media.
General Features Of Parenting Control Apps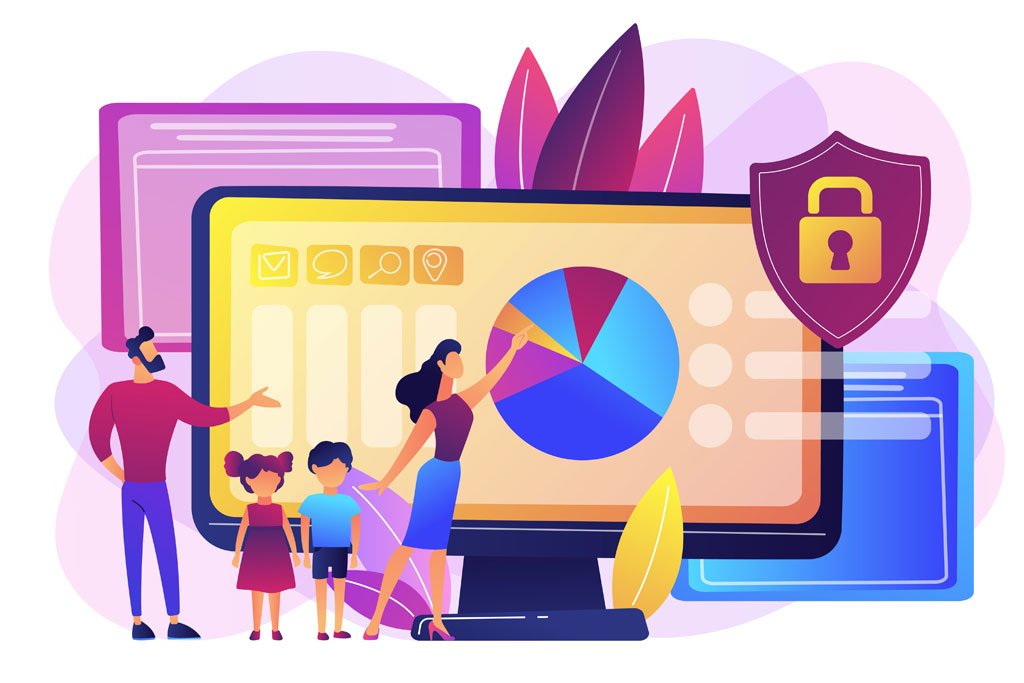 1. Screen time limiting feature
The screen time limit feature of the parenting control app limits the kid's phone usage. After the designated time, the apps shut down. Thus, this feature helps parents to discipline their children. It also controls excessive use of distracting social media apps or their mobile devices.
2. Tracking location
This feature is essential in any parenting control app because it allows you to keep track of your child's location and ensure safety. Along with location tracking, some apps also have a geofencing feature that allows marking a virtual territory on any address through GPS.
3. Blocking and filtering
It is a feature that must be present in a parenting control app because it allows parents to filter or block pornographic sites and adult content that is accessible through web browsers. It also blocks app purchases in the app store.
4. Monitoring apps and app usage
Through this feature, parents can know statistics about their child's device. They can learn on which apps their child spends the most time and restrict its usage accordingly. This feature is helpful because parents can limit the usage of certain apps. They can teach their children to use time productively in other tasks as well.
Parents also have access to text messages, posts, comments, and messages on social media and photo galleries. Thus, they can monitor their child's device and ensure a safe experience on the internet.
5. Parental notifications and alerts
This feature in parenting control apps informs parents through message or email about specific trigger words used by their child on the device like drugs, porn, and suicide. Thus, parents can know about this and talk to their kids to explain and inform them about such things.
Best Free Parenting Control Apps to control your child's phone or devices
1. Qustodio


Qustodiois an award-winning free parenting control app available on Android, iOS, Windows, Amazon Kindle, and Mac platforms in multiple languages for free.
It allows parents to set screen time limits, filter and block specific websites or categories of inappropriate websites, and monitor apps like YouTube and Facebook on their child's device.
It allows location tracking through GPS, reports the history of device usage, and sends alerts to parents.
However, it is only available for only one device for free.
It also offers a paid subscription service that allows additional features like a panic button, specific app blocking, geofencing, and more on up to 15 devices.
Cons: The paid version is quite expensive. It allows social media monitoring of Facebook only.
2. Our Pact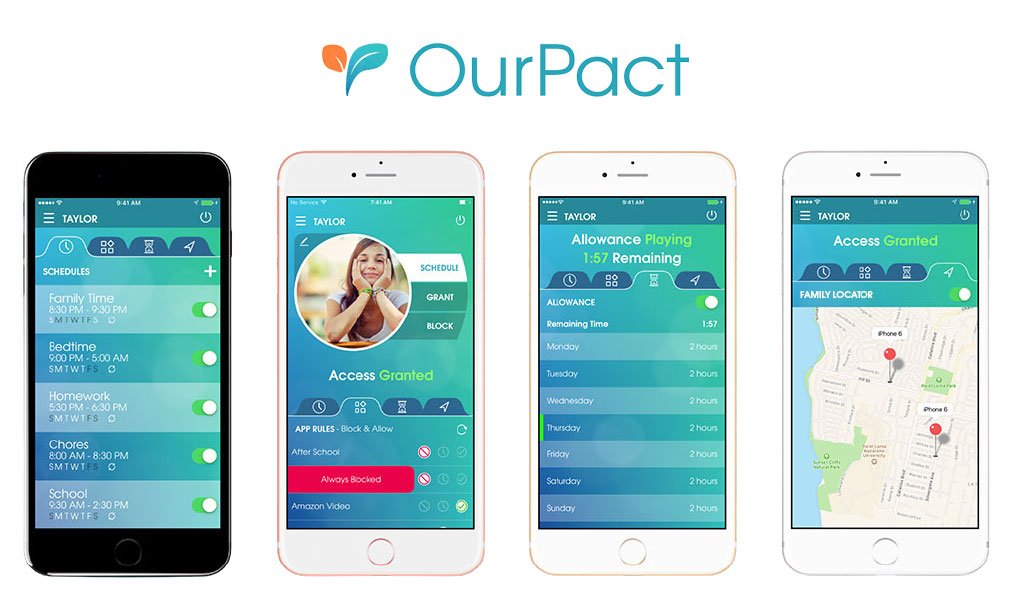 Our Pact is a good parenting control app, available on Android and iOS platforms for free.
It allows parents to control and manage their child's device through features like app and website blocking, location tracking with geofencing, setting screen time limits, and more.
It also sends alerts when new apps are installed on your child's device.
However, parents can also unlock several additional features available to them on this app by taking its subscription.
Cons: It does not work properly on iOS and does not record the activity of your child's device effectively.
3. Kaspersky SafeKids


Kaspersky SafeKids parenting control app is available for free on platforms like iOS, Mac, Android, and Windows.
It lets parents monitor and blocks web searches, apps, inappropriate websites, and games. It ensures the safety of their children and also blocks bad YouTube searches.
Parents can set screen time limits and manage app usage on their child's device.
Parents can also get advice from child psychologists.
However, this app also offers a paid subscription through which parents can access other features like location tracking and geofencing, notification about low battery, managing device use, detailed reports on app usages, and more.
Cons: Limited filtering and blocking certain browsers. The paid version is also expensive.
4. Google Family Link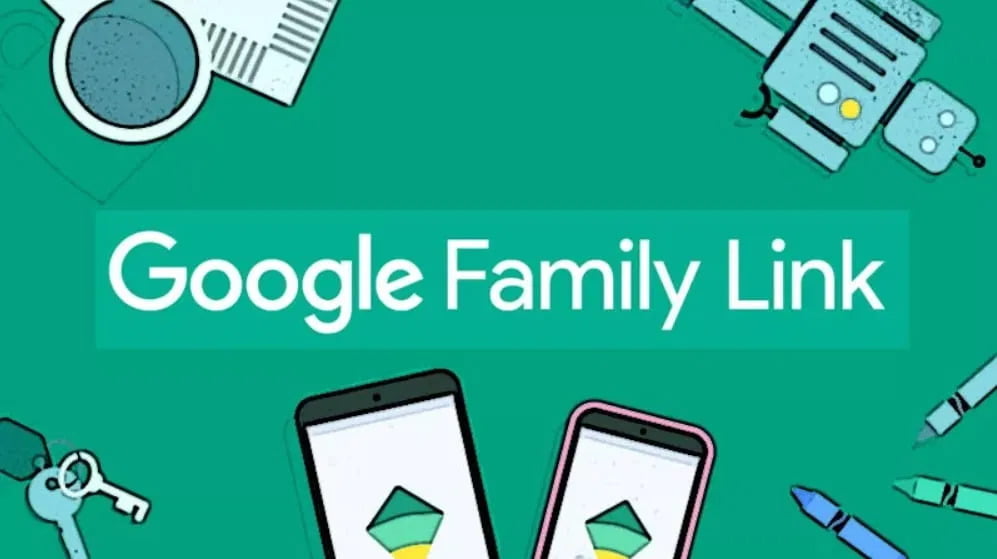 Google Family Link is a free parenting control app available on iOS, Windows, Mac OS, and Android platforms.
It allows parents to view app activity and manage and block app download on their child's device.
It allows to set screen time limits and remotely lock children's devices.
The app also allows features like location tracking and restricting in-app purchases and inappropriate websites.
The easy user interface makes this parenting control app the best choice.
Cons: It does not allow monitoring of texts and calls, social media and has limited features.
5. Screen Time 


Screen Time is available for free on Android and iOS platforms.
It is a good parenting control app because it provides features like screen and device time limits, app usage activity, monitoring social media apps, and more.
It also allows parents to see the history of website visits and videos watched on YouTube by their kids.
However, this app provides additional parenting control features upon taking a subscription. It includes location tracking, instant lock button, blocking and filtering apps and websites, and a detailed report of the child's device usage.
Cons: Most basic features of this parenting control app are not available on its free version. Also, some features do not work effectively on iOS devices.
Best Paid Parenting Control Apps to control your child's phone or devices
1. Wondershare Famisafe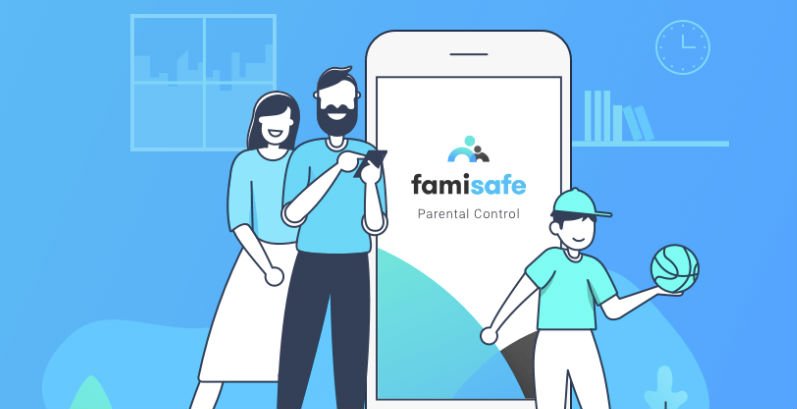 Famisafe is most reliable when it comes to the best-paid parenting control apps. It is available on macOS, Android, iOS, Amazon Kindle, and Windows PC devices.
It allows a short free trial period and later offers a monthly subscription of 10$ and covers five devices. The subscription rate varies depending on the number of devices. Monitoring 30 devices are also possible through a more expensive subscription.
It helps parents manage screen time, web filtering, blocking games and porn, location tracking, and geofencing.
It also detects suspicious images and messages on social media apps like Instagram, WhatsApp, Facebook, and YouTube and sends instant alerts to parents.
Parents can see their child's device activity report about the apps they use, install and uninstall.
It also sends alerts when the child tries to open blocked websites and games.
Cons: Some of its features do not work on iOS devices.
2. Net Nanny


Net Nanny is one of the best parenting control apps which is available across Android and iOS platforms.
It allows parents to track location and view location history.
It also monitors social media apps and reports suspicious activities.
It sends an instant notification to parents upon internet searches about drugs, porn, suicide, violence, and more.
It also updates parents about the app usage on their child's device.
It also offers a free version, but it has limited features.
Cons: It does not allow call and text monitoring, and it is a bit on the expensive side.
3. MMGuardian


MMGuardian offers a 14-day free trial period post-trial, you can choose a monthly or annual subscription.
It is available for Android and iOS devices.
It enables parents to monitor and block SMS messages, messages on Instagram, Facebook, and WhatsApp, app usage, and web browsing activities on their child's device.
This parenting control app also sends alerts to parents upon detecting explicit content in messages and web searches on your child's device.
It also offers all the other traditional features like location tracking, scheduling, instant locking, screen time limit, blocking apps and games, filtering web browsers, and more.
You can even set up a scheduled location tracker for your child's device so that you know the location of your child from time to time.
Cons: It offers limited features for iOS devices.
4. Kidslox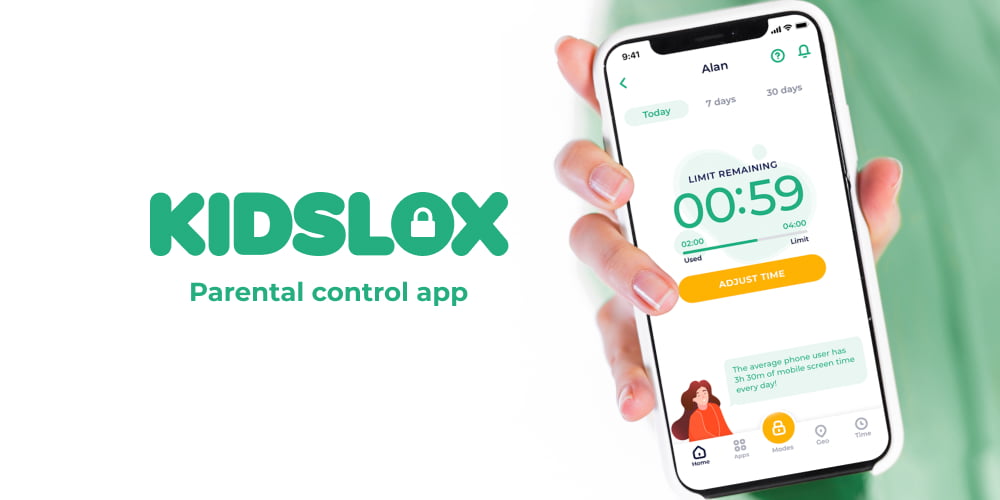 Kidslox is a suitable parenting control app with an easy-to-use user interface for Android and iOS.
It offers a 3-day free trial and later a monthly subscription of $7.99.
It allows parents to schedule the day for their child and limit the screen time.
It has tools to block the internet, apps, and filter websites.
It allows parents to control up to 10 devices.
It allows blocking in-app purchases, games, social media apps, entertainment apps, web browsers, and even the camera of your child's device.
It also has multiple modes like parent mode, which is unrestricted, child mode, where blocking certain things is possible, and lockdown mode with more restrictive features.
Cons: It does not record a range of activities on your child's device.
Conclusion 
Now that you have all the information regarding parenting control apps, you can choose the best for yourself. Parenting control apps are a good parenting tool to monitor a child's digital activity. However, it also essential to provide proper guidance and support to children regarding internet usage.