Tulsi is called "the golden remedy of Ayurveda" for its innumerable health benefits. It is a native of India and highly found in the parts of south-east Asia. Tulsi, with its medicinal properties, is revered in India and so it is present in most Indian homes. The 'Queen of Herbs' Tulsi or Holy basil is considered as a natural immunity booster. Tulsi is known for its highly effective properties against various diseases and infections. It possesses anti-bacterial, anti-viral properties, and acts as a natural antiseptic.
This herb has a special place in Ayurveda as Tulsi leaves are sources of Vitamin A, C, and K. It also contains iron, magnesium, potassium, calcium, and phosphorus. 
There are five types of Tulsi present:
Rama Tulsi

Krishna Tulsi

Shama Tulsi

Shwet Tulsi

Nimbu Tulsi
What is Tulsi ark?
Tulsi Ark is made from combining these five types of Tulsi and the extraction is mixed in a definite proportion. These highly effective Tulsi drops will help to strengthen your natural immune system.
How to add Tulsi ark to your daily routine?
You can include this in your everyday routine to stay healthy. It is to be taken with water on a daily note. Add 2 to 3 drops of Tulsi ark in a warm glass of water and consume it. Tulsi ark can also be taken in Tea.

You should avoid taking the drops directly as the solution is the concentrated extracts of Tulsi leaves. The dosage will vary from person to person depending upon age, weight, and health conditions. 
How Effective is Tulsi Ark than Fresh Tulsi leaves?
Tulsi or Holy Basil is known for its special religious significance in almost every house in India. But the medicinal properties of Tulsi make it an easy home remedy for several diseases. The leaves are a little bitter and astringent taste when you chew them.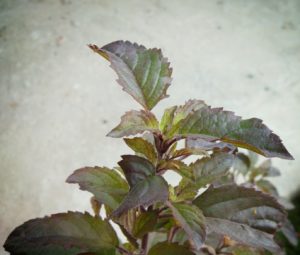 You must have heard that consuming two to three Tulsi leaves early in the morning is beneficial. Tulsi is a great blood purifier and helps in clearing out toxins from your body. Along with this, the fact comes that many would ask you to swallow the leaves instead of chewing them in your mouth.
Though there is no particular scientific reason behind it, the only thing is Tulsi contains a high amount of mercury and iron that might release in your mouth while chewing the leaves. This might create discoloration of teeth and damage them as it is acidic. But this is applicable only when a large number of leaves are consumed.
So, a great way to consume Tulsi is to have the Tulsi ark.
In the Ayurvedic study of medicines, the essential oil extracted from Tulsi has multiple benefits for many respiratory ailments. Indian mothers are best in making 'kadha' with Tulsi leaves and other ingredients that can cure your congested chest and acts effectively on cough and cold conditions. Tulsi tea is used to relieve fever. It has a warm and soothing effect on the body.
Benefits of Tulsi Ark
1. Immunity booster
The presence of vitamin C and zinc in Tulsi makes it a natural immunity booster. The anti-fungal, anti-bacterial, and anti-viral properties help to keep infections away.
2. Minimizes cough, cold, and other respiratory problems
Tulsi is highly beneficial for infections due to climatic changes like cough and cold. It also helps to reduce congestion in the chest. The tulsi ark can be mixed with the concoction made from honey and ginger to treat various respiratory diseases like bronchitis, asthma, or influenza
3. Analgesic and antipyretic
Tulsi is also known for its antipyretic and analgesic properties due to which it helps to reduce fever. Fever due to cough and cold can be reduced if you can take a few drops of tulsi ark with tea or water.
4. Helps in stress and blood pressure reduction
Tulsi also provides relaxation from stress and anxiety due to compounds like Ocimumosides A and B. The ability to balance the neurotransmitters in the brain like serotonin and dopamine helps in the reduction of your stress levels. The anti-inflammatory properties of tulsi can keep your blood pressure level at normal.
5. Great for heart health, diabetes, and kidney
Tulsi has an intense effect on the prevention of cardiovascular diseases. It minimizes blood lipid content, lowering the chances of stroke and hypertension.
Tulsi is found to lower the blood glucose levels in type 2 diabetic patients. It helps decrease the amount of uric acid in the body, reducing the chances of kidney stones.
6. Helps indigestion
It provides relief from indigestion, flatulence, and bloating. It increases appetite and helps to detoxify your body.
7. Good for skin and hair
Acne and blemishes reduce if tulsi is consumed daily. It is also beneficial for hair growth, reducing dandruff, and prevents fungal infections.
8. Anti-cancer
Tulsi contains phytochemicals that have high antioxidant and anti-cancerous properties, thus protecting from skin, lung, oral, and liver cancers.
Top Best Tulsi Ark's Brands
1. Dabur Tulsi Drops
Dabur's tulsi drops is considered to be highly effective on cold, flu, sore throat, and other respiratory disorder. Rich in anti-microbial properties, the Dabur Tulsi drops are beneficial for skin, liver, and joint health.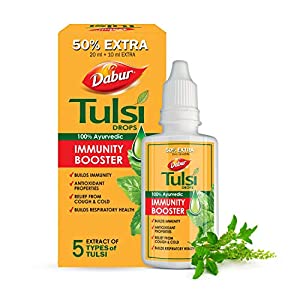 2. Baidyanath Panch Tulsi Drops – Immunity Booster
Baidyanath Panch Tulsi Drops (Ark) is made of the five types of tulsi mentioned above. Baidyanath Panch Tulsi is a natural antiseptic, antibiotic, germicidal & fungicidal. Baidyanath Tulsi Ark helps in building immunity and fighting the cell damage caused by free radicals. It helps combat common infections, cough and cold and helps relieve irritation caused by insect bites. This concentrated organic drop comes in a 30 ml package.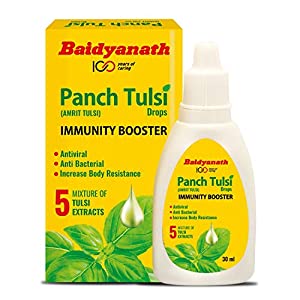 3. Organic needs Panch Tulsi Drops (Tulsi Ark)
The Organic needs Tulsi Ark is the natural immunity booster that is effective for viral or seasonal fever. It also heals ulcer, cures acidity, and detoxify your body. Try to have it with green tea or add it directly to your glass of drinking water.
Rama Tulsi, Shama Tulsi, Nimbu Tulsi, Shwet Tulsi, Van Tulsi, Flaxseed Oil, Propylene Glycol are the ingredients present in this pack.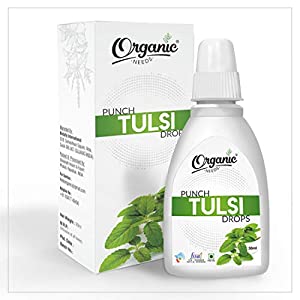 4. Sri Sri Tattva Organic Tulasi Arka
Sri Sri Tattva Organic Tulasi Arka is the aqueous extract of organic Tulasi. It comes in a 30 ml package and ideally can be used for headache, cough, and cold conditions.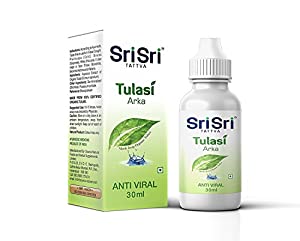 5. Shrimad herbal Tulsi Ark
Shrimad herbal tulsi ark contains concentrated arak tulsi. Shrimad Tulsi drops is also made from the goodness of five rare tulsi which has antioxidant properties. It has antimicrobial properties and is good for skin, liver and joint health. It comes in a standard 30 ml pack.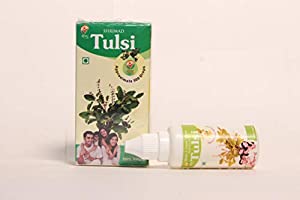 6. Tulsi Ganga Satrangi 7 Types of Tulsi Drops
This 100% natural tulsi ark comes in a pack of 3. Each 10 ml pack of Tulsi Ganga contains the following ingredients – Shyam Tulsi 2ml, Vishnu Tulsi 2ml, Ram Tulsi 2ml, Nimbu Tulsi 1ml, Van Tulsi 1ml, Suganga Tulsi 1ml, Vishnu Valambha Tulsi .75ml.
This tulsi ark is one of the best panch tulsi arks in the market that can heal your body and mind both.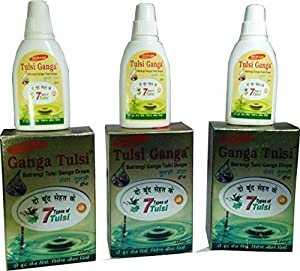 These are a few of the tulsi arks present in the market. It is always advised to have a consultation with your Ayurvedic doctor before starting any consumption of tulsi ark for treating any health-related issues.
Side Effects of Tulsi and Tulsi ark
You would never think that Tulsi could have any negative effects. But unfortunately, these leaves and their Ark (Tulsi Water) can affect your health and wellbeing in some cases. This applies to all people, including pregnant and nursing women, children, people with medical conditions, and people taking medications.
Tulsi contains ursolic acid which is why it should not be taken by pregnant women or those who are trying to become pregnant. Tulsi can lower blood sugar levels, so it should be used with caution by people with diabetes who are taking blood sugar-lowering medications.
Here are five unexpected side effects of Tulsi leaves or consuming Tulsi ark.
1. Pregnancy
Tulsi can affect the health of pregnant women and their unborn children. In severe cases, miscarriage can occur due to over usage of this. The Tulsi herb can cause constriction of the uterus, which is harmful to a woman's health.
Holy basil leaves promote blood flow to the uterus and pelvic area causing uterine contractions in pregnant women. This might lead to several complications related to childbirth and menstruation. Though there is a scarcity of evidence to prove these side effects. However, experts point out that the safest course for women is to stop taking Tulsi during pregnancy.
Symptoms:
Bruising
A prolonged period of bleeding
2. Diabetic Patients
Some studies have shown that tulsi can help reduce blood sugar levels. However, if people who are already taking diabetes medication consume Tulsi leaves or start having tulsi ark, their blood sugar levels may fall too low. This might create some health issues and sudden abnormal drop in the blood sugar level creating complications. The excessive reduction of blood sugar levels of diabetic patients or patients who are suffering from hypoglycemia can have dangerous health problems.
If you have the following symptoms, stop taking Tulsi or Tulsi Ark
Dizziness
Hunger
Weakness
Paleness
Irritability
3. Fertility
Tulsi may affect female and male fertility. Although no human studies have been conducted, NCBI's analysis of animals has shown that Tulsi can have a negative effect on fertility. Studies have shown that Tulsi reduces sperm dependency and reduces the burden on reproductive organs such as the testes, adrenal glands, prostate, uterus, and ovaries, by decreasing the weight of these organs. Further research is currently underway to verify this claim.
4. Blood
This herb is considered a trigger for anticoagulants. It is a home treatment for those who do not need to take medication for the same purpose. However, if someone who is already taking blood thinners starts taking Tulsi, it can have a negative effect. People who are taking blood thinners should avoid consuming Tulsi or Tulsi ark.
5. Liver
The Holy basil contains eugenol, which is also found in Peruvian cloves and balsam. A small amount of eugenol can stop liver-damaging toxins to harm your liver, but in excess, it can cause liver damage as well. Eugenol overdose can be dangerous for health.
Symptoms:
Nausea
Diarrhea
Irregular heartbeat
Seizures
Blood in urine
Blooding during coughs
6. Teeth
Chewing Tulsi leaves is considered gross, so some people recommend swallowing a small amount without chewing. It is scientifically proven that chewing tulsi leaves can stain your teeth because they contain mercury. Simply swallowing will prevent discoloration of the teeth. Tulsi leaves are acidic, but the mouth is alkaline, which can cause your enamel of the teeth to wear out.
The ideal way is to have Tulsi or Tulsi Ark
Anything, how so ever natural it is, can have a small number of side effects. It may have great health effects and can have several benefits related to various health issues. But still, it can have some other negative effects on some health concerns. So, it is always recommended to have Tulsi or Tulsi ark in moderation so that you can have the best use of this natural home Ayurvedic remedy.