Human has reached as far as Moon and Mars; but to the detriment of Earth's atmosphere. Mankind has ruined the air to breathe on the appellation of advancement in technology. Air has been contaminated due to smoke particles, Volatile Organic Compounds (VOCs), combustion products, pesticides, dust particles, radon, viruses and bacterias. Such indoor air pollution devastates the wellness of human beings especially allergy sufferers, asthmatics, infants, toddlers, aged and sensitive people. Air purifier acts like a boon for such people and allow them to breath of fresh air.
Air Purifying Technology
There are two types of air purifying processes- Active and Passive. Active type air purifiers release negatively charged ions into the space by causing pollutants to stick to the surface, thereby providing clean and ambient atmosphere. On the contrary, Passive type air purifiers have High-Efficiency Particulate Air (HEPA) filters. It removes the dust and particulates permanently from the air by passing the indoor air through the filter trapping all contaminants, thereby providing untainted and fresh air.
Do you now that even deodorants, inkjet printers, cleaning agents and incense sticks also contribute to indoor air pollution.
Which is Best Air Purifier in India?
If you are looking for best air purifier brand in India, here's a list of top models of Air purifiers at best prices.
1. Dyson Pure CoolTM Advanced Technology Tower
This latest model of Dyson air purifier is an asset in the real sense. It is the only air purifier in the Indian market that has adjustable oscillation angle from 45 o to 35o and Air MultiplierTM. This helps in purifying and providing airflow of more than 360 liters per second in every corner of the room. This appliance is scientifically tested to capture even microscopic pollutants of PM 0.1 like bacteria and viruses. Unlike any other air purifier, this Dyson air purifier top rated model can sense and report four different pollutants- PM2.5, PM10, VOCs and NO2- in real time. Its vacuum-sealed filtration technology combines activated carbon filter to eliminate gases whereas H-13 Glass HEPA filter captures 99.95% of microscopic allergens and pollutants. You can select 'cool' or 'diffused mode' according to your preferences. Its 'Intelligent Reporting' automatically senses, captures, projects and reports to 'Dyson Link' app. 'Night-time mode' operates the appliance at negligible noise level with a dimmed display light. This super appliance is compatible with Alexa and certified as asthma and allergy friendly by Allergy Standards Limited.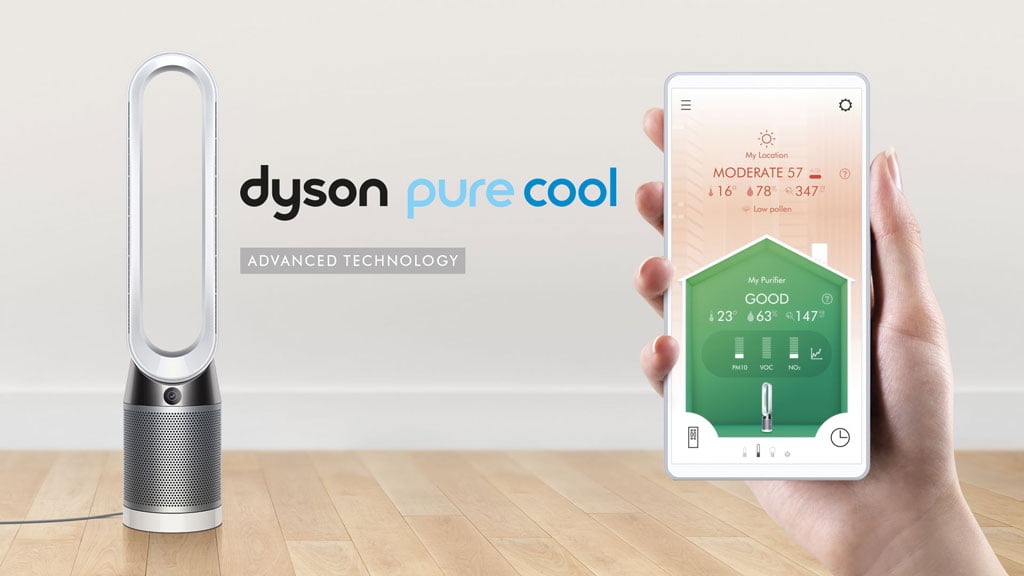 Dimensions (W x H) – 206 x 1054 mm
Customer Rating – 4.85 stars/ 5 stars
Colors – White/ Silver, Iron/ Blue, Black/Nickel
Warranty – 2 years
MRP – Rs. 45,900
2. Dyson Pure Cool Link Tower
If you are looking for a low cost Dyson air purifier with top features, then this is the best model under Rs. 30,000. Like other high priced models, this budget friendly air purifier eliminates 99.95% of particles as small as PM 0.1. 3600 Glass HEPA filter captures ultrafine particles like pollen, bacteria and dander from every angle of the room. Smooth oscillation helps in circulating purified fresh air across the room while Air MultiplierTM technology provides a continuous stream of purified air. Apart from purifying the indoor air around the year, it also provides cooling in summers through an in-built fan. Intelligent purification for providing compatibility with Dyson Link app and Night-time mode is also present in this low budget air purifier. It is undoubtedly one of the best air purifiers for larger spaces.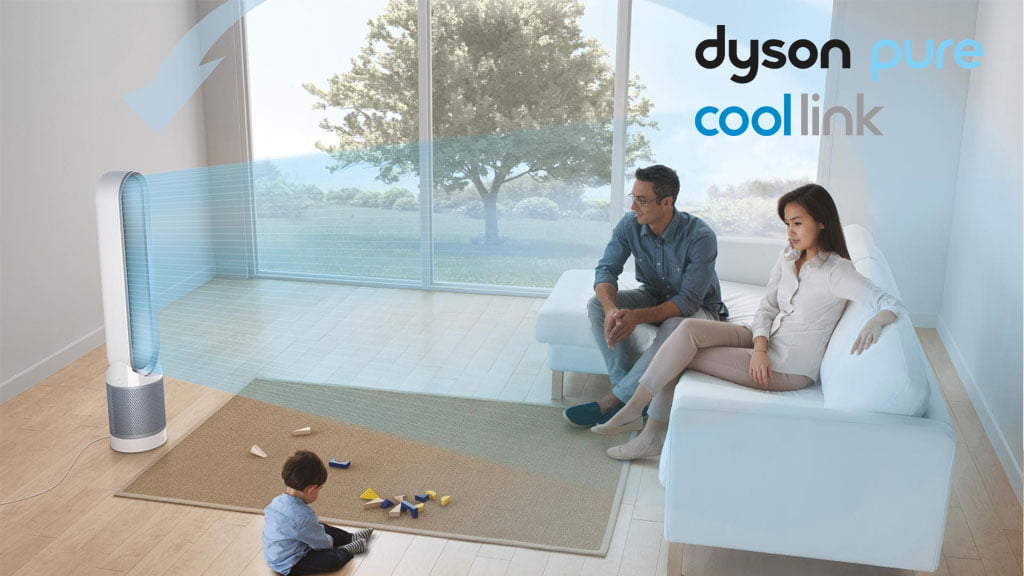 Dimensions (L x W x H) – 110 x 196 x 1018 mm
Customer Rating – 4.8 stars/ 5 stars
Colors – White/ Silver
Warranty – 2 years
MRP – Rs. 43,990
Best Buy Price – Rs. 29,900
3. Philips Series 3000i Air Purifier (Model- AC 3059/65)
This is the best air purifier for living rooms of up to 62 meters and purifies the air in 20m2 area in only six  minutes. It is a high performance device which distributes the purified air in every angle through its 3600 airflow technology, thereby enhancing its CADR (Clean Air Delivery Rate) performance to 520 m3/hour. With its HEPA, NanoProtect, Active Carbon filter, triple layer filtration and pre-filtration, it provides protection against PM 2.5, bacteria, dust, pollen, pet dander, gas and other pollutants by trapping 99.97% of nanoscopic particles (as minute as 0.003 microns) and eliminating up to 99.9% of viruses and aerosols from the air. This model of Philips Air purifier with HEPA NanoProtect filter is also tested for corona virus through a Microbial Reduction Rate Test in a chamber contaminated with avian corona virus (IBV) aerosols. Its smart sensors scan the air 1000 times a second to detect the presence of any ultra fine particles, and automatically select the required speed (when auto-mode is enabled). Dimmed display lights and noise-free functioning of 34 dB at sleep mode comforts you with a child-like sleep. Smart filter indicator, Vista Shield IPS, auto mode, 4X manual speed levels, WiFi control with clean Home + app, Aera Sense technology air quality display, energy efficient design, auto- ambient lighting and certification by Quiet Mark and European Centre for Allergy Research Foundation makes it a perfect buy.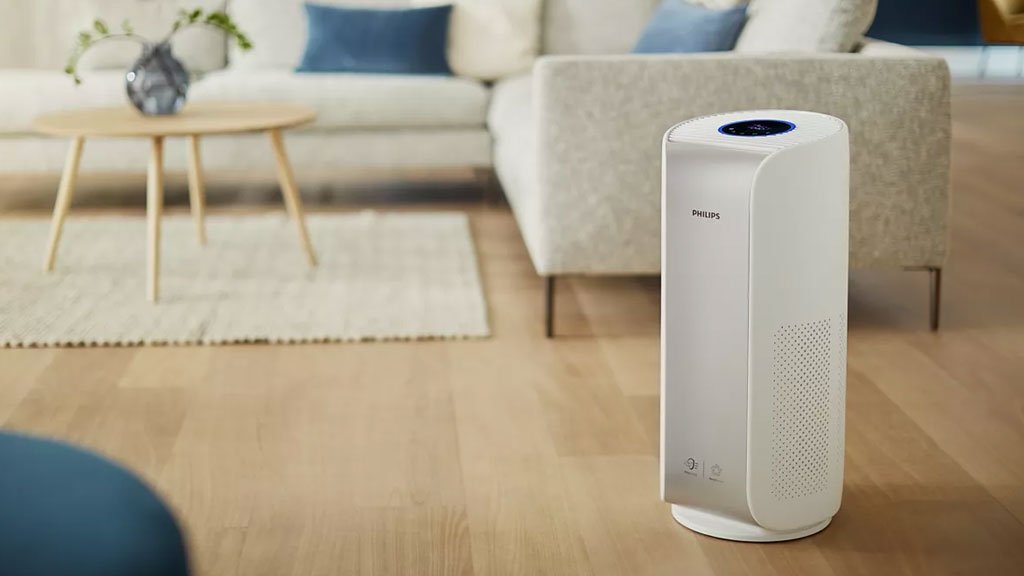 Dimensions (L x W x H) – 295 x 295 x 657 mm
Colors – White, Silver
Customer Rating – 5 star
Warranty – 2 years
MRP – Rs. 32,995
4. Philips Series 5000i Air Purifier (Model- AC 5659)
This is ranked as another true hepa air purifier for large rooms due to its excellent capacity to deliver purified air in rooms up to 60m2/ 645 square feet area. Advanced active carbon filters, multi-layer filtration system, pre-filter and true HEPA filter captures 99.97% of ultra fine particles, reduce harmful gases, VOCs, odors and nanoscopic airborne allergens like dander, dust and pollen. Most attractive feature of this model is 'Extra-sensitive Allergen mode' which diagnoses and fixes even a minuscule change in indoor allergen level, and extra-powerful 'Bacteria and Virus mode' which clears various bacteria and viruses like H1N1. Other features include superior sensor with Aerasense technology to detect and display potential risk levels of indoor air allergens and advanced gas sensors to monitor potential harmful gases (including toluene, VOC, odors, etc) with four level display. The appliance is easy to track, monitor and control through Clean Home + app. Child lock, unique Twin Force aerodynamics with dual-fan design and enhanced curvature of air tunnel provides noiseless paramount performance of the appliance. It is certified as an allergy friendly appliance by European Centre for Allergy Research Foundation (ECARF).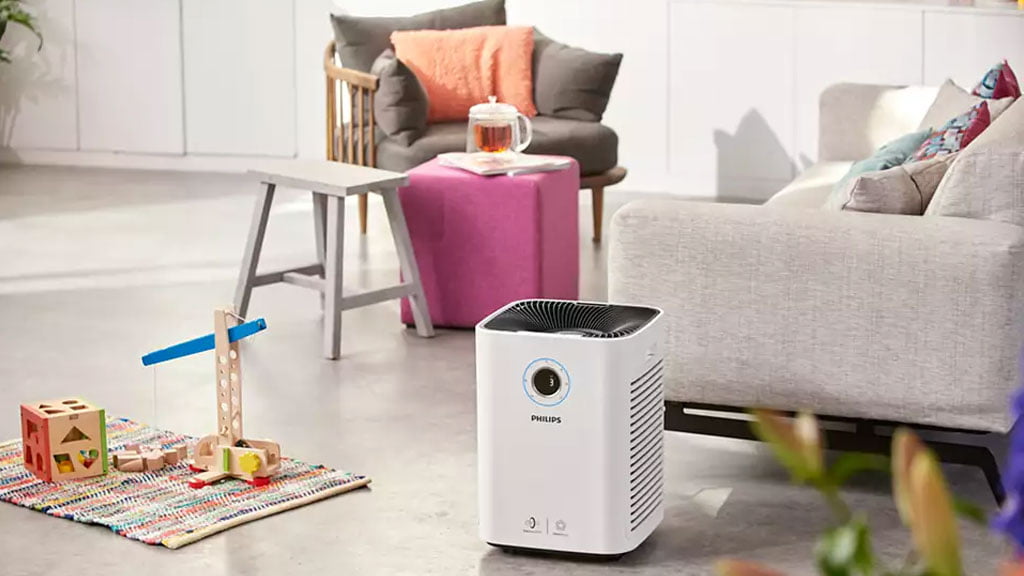 Dimensions – 47 x 40 x 57 cm (W x D x H)
Colors – White
Warranty – 2 years
Customer Rating- 5 stars
MRP – Rs. 49,995
Best Buy Price – Rs. 42,990
5. Coway Air Mega 200 (AP- 1018 F)
Coway could be an obscure name for some people but it is a leading multinational home and kitchen appliance company. Coway is one of the best air purifier brands in the world. It lays emphasis on the performance rather than appearance. If we calculate the price-performance rate of air purifiers, then Coway is the best price per performance with true hepa air purifier brand in India. Although Air Mega 200 is not the latest model, still it is an award winning best air purifier in India under Rs. 25,000. Its patented filter technology comes with a powerful air purification system (equipped with washable pre-filter, deodorization filter and true HEPA filter) which ensures squeaky clean, dust-free and 100% fresh air. Air quality sensor and real time air quality sensor regularly monitor and displays the quality of the air in the room to help you set the mode accordingly. Auto mode automatically switches the operation mode by detecting the level of indoor air pollution, therapy cutting down your electricity bills. It comes with beautiful slim and stylish design suitable for rooms up to 33.9m2/ 364 ft2. Its noise-free operation doesn't exceed 47.4 dB and makes it the best low price air purifier in India.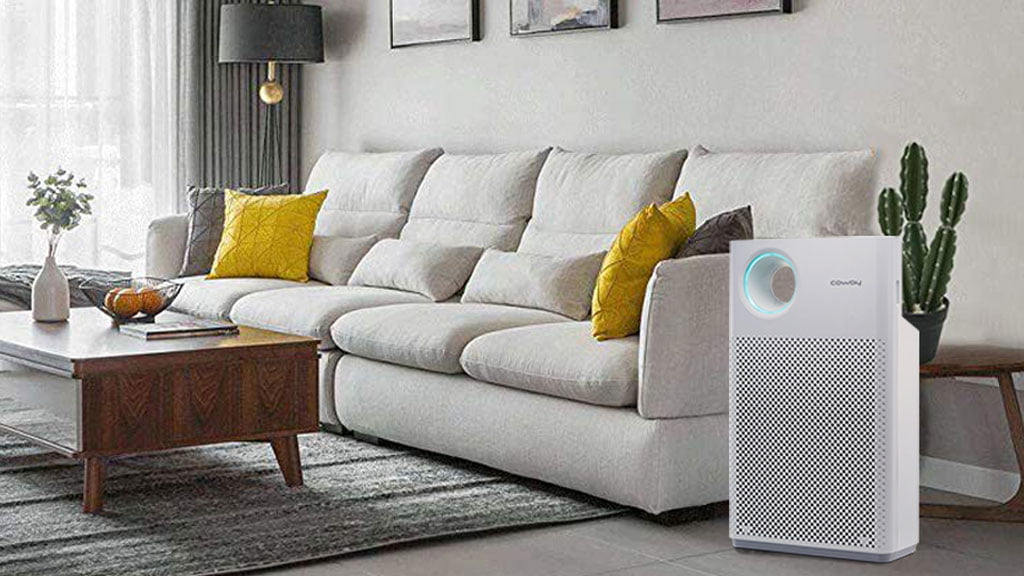 Dimensions (W x H x D) – 376 x 641 x 183 mm
Colors – White
Customer rating – 4.6 stars/ 5 stars
MRP – Rs. 39,900
Best Buy Price – Rs. 20,890
6. Honeywell Air Touch i9
This is one of the best air purifiers for home under Rs. 20,000. It comes with CADR of 300 cubic meters per hour which covers up to 39 square meter area. It is a health-friendly version of air purifiers as it doesn't emit any harmful ozone gases. Its three stage advanced filtration system – pre-filter and HEPA + SiDiV filter purifies contaminated air with 99% efficiency and triple dimensional airflow design ensures perfect circulation of purified air. Heavy-duty polycarbonate body and anti-fall design make it a perfect partner for your house. This smart appliance comes with smart technology and smart mode which senses indoor air pollution to auto-operate the appliance accordingly and turns it ON/ OFF while reading the PM 2.5 level in the indoor air. Additional features are sleep mode (minimum sound 38dB), air quality indicator, real-time pollution reading with PM 2.5 level display, laser sensor, filter replacement indicator and child lock.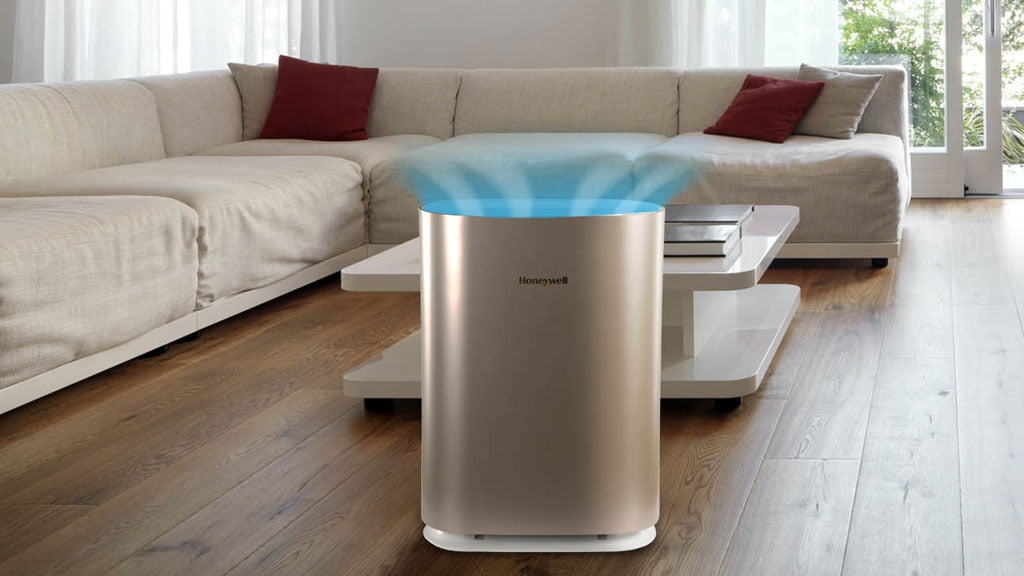 Dimension (L x W x H) – 27.6 x 52.4 x 55.8 cm
Customer Rating – 4.5 stars/ 5 stars
Warranty – 1 year
Colors – Gold
MRP – Rs. 22,990
Best Buy Price – Rs. 17,600
7. KENT Aura Air Purifier
If you are keen to buy an air purifier for an office or a small room, KENT Aura is an ideal option. It doesn't cause discomfort to your pockets as it is the best deal of air purifiers under Rs. 10,000 with superior performance and apex quality. HEPA tech filter and activated carbon filter effectively removes 99% of harmful particles (including PM2.5, SPM, stinky smell and pollutants > 0.3 microns) through its 3- stage structure (impact, interception and diffusion). Inbuilt ionizer enhances the freshness of air by releasing negative ions or by trapping the pollutants on an electrically charged collection plate. Clean Air Delivery Rate (CADR) of 180 m3/hour effectively clean the area up to 270 square feet. Additional features of this model are low noise, air quality monitor and in-built sensor.
Dimensions (L x W x H) – 350 x 180 x 482 mm
Customer Rating – 5 star
Warranty – 1 year
Colors – White with floral print
MRP – Rs. 15,990
Best Buy Price – Rs. 9,499
Other than these top models, you can consider buying below mentioned popular brands of air purifier in India:
Blue Star
Eureka Forbes (Dr. Aeroguard)
Intex
Panasonic
Atlanta Healthcare
LG
Sharp
Mi Xiaomi
Godrej
DaiKin
Blue air
Although Philips 1000i series air purifier (Model-AC 1217/20) is an old model but a best air purifier for small room up to 29 m2. Similarly, if you are looking for a air purifier for a medium sized room up to 45 m2, then Philips 2000i series air purifier (Model- AC 2958/63 and AC 2959/63) is a good deal.
Uses, Benefits and Drawbacks of Air Purifier
Air purifier serves us innumerable health benefits by eliminating dust, pollen, mold spares, dander, dust mite feces, smoke particles (including second-hand tobacco smoke) and VOCs. Air purifiers with HEPA filter also help in reducing the transmission of coronavirus and several other air-borne viruses. Despite of various advantages of air purifiers, there are several harmful side-effects as well of appliance.
Emission of Ozone gas – Some air purifiers, like ozone generators and ionizers, emit ozone to remove harmful chemical bacterias present in the air. Air purifiers with electrostatic precipitators emit ozone inadvertently. Ozone is a toxic colorless gas which is naturally present at the stratosphere and is also a component of smog. Being toxic, it can cause shortness of breath, chest tightness and enhancement in asthmatic conditions.
Under performance – Most of the air purifiers don't serve the claimed capabilities. Air purifiers with HEPA filtration are effective against allergens and micro organisms but fail to eliminate odors, gases and other harmful chemicals; vice-versa is in the case of purifiers with activated carbon.
Expensive – Apart from the purchase price of air purifiers, maintenance of this appliance is also hard on the pocket. Filters demand replacement from time to time.
FREQUENTLY ASKED QUESTIONS (FAQs)
Do air purifiers really work or a waste of money?
In case you are willing to know that whether air purifiers are really effective or just a waste of money, the honest response is here. Doctors recommend air purifiers to people with allergies and respiratory problems if the major reason of their illness is the air where they breath. Spending on a HEPA filter air purifier (not HEPA- type purifier) is a wise decision. On the other hand, ionizers and ozone generators are not less than wastage of money as they may cause risks to the eyes, uneasiness in breathing and allergy-like condition.
Why are air purifiers bad for your health?
As explained above, many air purifiers emit toxic ozone gas as a byproduct of filtration which can cause respiratory and asthmatic problems like shortness of breath, chest pain, cough and throat irritation.
Should I sleep with air purifier on ?
You need clean and fresh air to breath round the clock; especially with the omnipresent threat of air pollution. Air purifiers with HEPA filter can safely be run unattended and for long hours during day and night.
Where should I place my air purifier?
Many people get confused while choosing the best location for an air purifier. It is advisable to keep the front face of the appliance in such a way that it can espy every spot and stretch of the room. You should avoid keeping the appliance under a shelf or behind an object (like sofa, table or cupboard).
Do air purifiers protect against corona virus?
Are air cleaners effective against Coivd-19? HEPA filters and UV light air purifiers have the expected potential to reduce or disable SARS-COV-2 (like many other viruses) significantly (approx. between 99.5% to 99.9%), provided that the purifying appliance is run over a period of time and the villain virus gets a long exposure to UV light. But it doesn't mean that you stop taking preventive measures of wearing a mask, sanitizing your hands and maintaining social distance. If a person is diagnosed as Covid positive, it is mandatory to quarantine him. Air purifier will only act as an additional line of defense to reduce the spread of virus to caregivers. Also note that the size of corona virus is somewhere between 0.06 micron to 0.14 micron; whereas most of the HEPA filters are tested against 0.3 micron size viruses only. Thus air purifiers should be used as an additional defensive device besides masks, sanitizers, and social distancing.
Do you need air purifier for every room?
Most of the air purifiers are easy to move from one place to another within the house. You should consider the average sizes of the rooms where you spend the longest hours and purchase right model of air purifier accordingly.
Which is better – air purifier or air conditioner with built-in air purifier?
People often perplex that whether they really need an air purifier or an air conditioner with built-in air purifier is enough for them. AC with good filtration system will be able to sense and remove PM 2.5 pollutants or at the most PM 1 level pollutants (like in case of LG ECO convertible 5-in-1 air conditioner). Unlike air purifier, AC neither have HEPA filters nor they can be placed into it; hence nano particles in contaminated air cannot be removed. It is judicious to buy an air purifier if you are living in a metro city with poor air quality index. People living in small towns and villages, where AQI is good or moderate, can rely upon air conditioners with good filtration system.
Which is better – air purifier or air humidifier?
Another rival for air purifier is an air humidifier. As the name suggest, the job of an air humidifier is to add moisture into air by synchronizing and converting the water into water vapors. Humidifiers make the indoor air pleasant and comfortable for people suffering with dry throat, nose, lips and skin. But they do not purify the air, nor do they come with any filter to remove pollutants. If you are living in an area with dry air, you can consider buying an air purifier with humidifier.
Which air purifier is best for my house?
You need to look upon various factors before buying an air purifier. Here's the buying guide to help you to choose the right air purifier for your home.
Determine your needs – Do you have any specific need to buy an air purifier? If you are willing to buy an air purifier for allergy or asthma patients, then consider buying the one with multiple filters, including HEPA filter, for allergen removal. Some air purifiers are specifically designed to remove pet hair and dander, smoke (especially tobacco smoke) and multiple chemical sensitivities.
Size of the room – This is the most important factor to choose best air purifier. Consider the area of the room (or average area of the rooms) where you want to use the appliance. Air purifiers are meant to have good coverage area and high CADR. Higher the CADR, faster and efficient the appliance is. The Minimum recommended CADR for a room up to 300 square feet is 140.
Operating cost and maintenance cost – Power consumption and cost of replacing air filters must be considered before buying an air purifier. Activated carbon filters normally last for 6 months and costs around Rs. 1000- Rs. 3000 whereas HEPA filters generally last for 2000 hours and costs Rs. 3000 approximately. Also, check the easy availability of spare parts in the market.
Noise level – Choose an air purifier that makes less noise. Noise level of a library is 40db. Any sound quieter than 40db is unlikely to get noticed.
Air Change Rate per Hour (ACH) – ACH refers to the number of times the appliance purifies the air in an hour. Recommended ACH is 4 which means the appliance will purify the air after every 15 minutes.
Other factors – Reputation of brand, automatic monitoring, warranty period and weight (if you are willing to move the device from one room to another) are several other important factors to consider before purchasing a new air purifier.
We hope that you like the tips and information shared on this page. Drop a comment below if you have any doubts or queries related to the app.
Disclosure:
This post contains affiliate links to products. When you purchase through links, we may earn a small commission, at no extra cost to you.