As technology evolves, it can be hard for parents to monitor what kids watch online, mainly on popular streaming sites like Netflix.
Netflix has tons of age-inappropriate content that your kids can easily access to. A report in 2018 said that 61% of  Netflix originals contain mature content. So, it is a vulnerable place for your child if they stumble upon these contents.
So, to control your child's behavior and restrict content on Netflix, we'll guide you with all the Netflix parental control tips and information in this blog. Let's get started!
Why is it important to protect children from Harmful content on Netflix?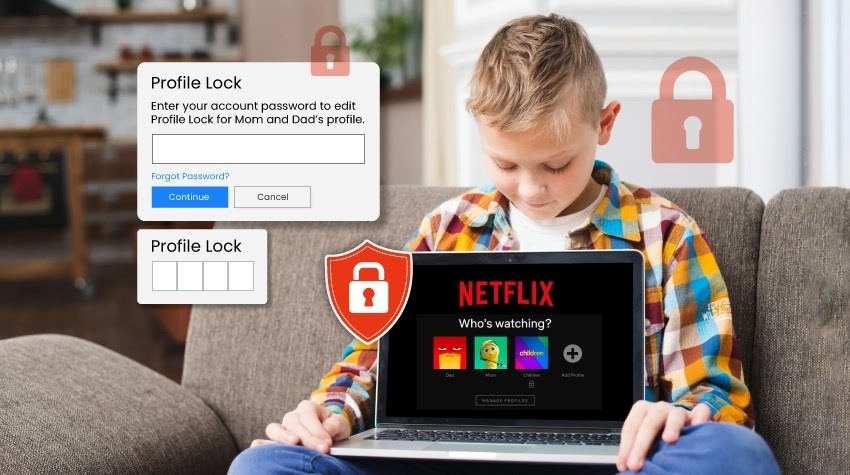 It is the parent's responsibility to protect children from harmful content on Netflix. As with the rise of streaming services, it has been more difficult than ever for parents to control what their kids are exposed to.
By limiting access to inappropriate and potentially harmful material, parents can ensure that their children are not influenced by age-inappropriate messages or graphics that could lead them astray.
Here are some reasons to protect your children from harmful content on Netflix
Exposure to explicit language and graphics at a young age can harm their mind.
Contents having war, violence, and hate cause desensitization to violence which can cause trauma.
Questionable morals used in movies can negatively affect a child's brain.
Anti-social activities and harmful messages.
Parents must actively monitor what their kids watch so they can have a safe viewing experience while still enjoying all the great shows available on Netflix.
5 ways to Set up parental controls on Your Kid's Netflix
The ferocious popularity of Netflix has caused children to spend more time on screen than ever. Due to more screen time, they've less engagement with the real world, which is serious. Luckily Netflix has in-built parental control settings; here are the steps to set it up:
1. Set up Kid's Profile
Netflix has a feature for creating a  kid profile for those under 12. With a Kid's profile,  children can watch animated movies, shows, and content selected for them. They won't be able to view mature content using this profile.
Open Netflix and log in with your account
Select Manage profiles.
Click Add Profile
Select Kids to create Kid's Profile
Click Continue, and the Kid's profile will be created.
2. Set Profile Maturity Ratings
As we have mentioned above, Netflix has mature content. It is important to set maturity ratings, and here's how:
Go to your Netflix Account
Click on your profile and go to parental control settings
Open Viewing Restrictions
Enter your password to set the Maturity rating level for movies and TV shows as your preference.
You can manually block particular movies and TV shows, content, and movies.
Select Title Restrictions and select the TV show or movie you want to block by their Name.
Select the "X" icon from the restricted list to remove the movie.
3. Turn Off Autoplay
Netflix automatically plays the next shows after finishing the current show. It can be inappropriate if your kid is watching movies and shows for a long period of time. To turn off the autoplay on Netflix, follow the given steps.
For Mobile
Open Netflix and go to the home screen
Click on the profile and more
Select Manage Profiles
Choose the Profile you want to customize
Turn off the Autoplay toggle
For Desktop
Launch Netflix on your browser.
Select Profile and go to Parental Control settings
Go to Playback Settings and select Change
Click Save
🔔 Don't miss: How does Social Media affect Self-Esteem
4. Lock Your Profile Using PIN
You can lock your profile with a PIN if you don't want kids to use your account. Follow the given steps to set up a PIN.
Go to Netflix's site or Open the app on your device
Click on your account.
Go to the parental controls section and select the profile you need to lock.
Under Profile lock, choose the Change option.
Enter your Netflix login credentials.
Choose the PIN requirement for access and input your pin of four digits.
Click save.
5. Use Parental Control Software
Parental control software for Netflix is a great way to manage the content your children are exposed to on the streaming service. It allows parents to set age-appropriate filters, restrict access times, and monitor viewing activity.
This can help ensure that only appropriate content is being watched and also make sure that kids don't spend too much time watching TV or movies. With parental control software, you can know your children are safe while they enjoy their favorite shows on Netflix.
Here are the steps to set up parental control software for Netflix
Research and choose the best Parental controls.
Create an account with the software and complete the payment process
Download and install the parental control app on your child's device
Customize and set restrictions on Netflix and Mature content
Set up notifications and alerts on your kid's Netflix activities
Monitor them regularly.
Best Parental Control Apps for Netflix
Third-party parental control apps are the perfect solutions for you if you want to monitor your kid's Netflix from anywhere. If you're busy and can't keep an eye on them, you can use parental control softwares.
Here is the list of best parental control apps that helps to monitor your kid's Netflix on their device, along with other application and games,
1. Fenced.ai
Fenced.ai is one of the excellent options for setting up parental controls on Netflix. It offers a variety of parental control features, such as setting time limits, blocking certain content, and approving or denying app downloads.
Along with Netflix, you can monitor and control their watching behavior and track other phone activities like social media, games, and websites.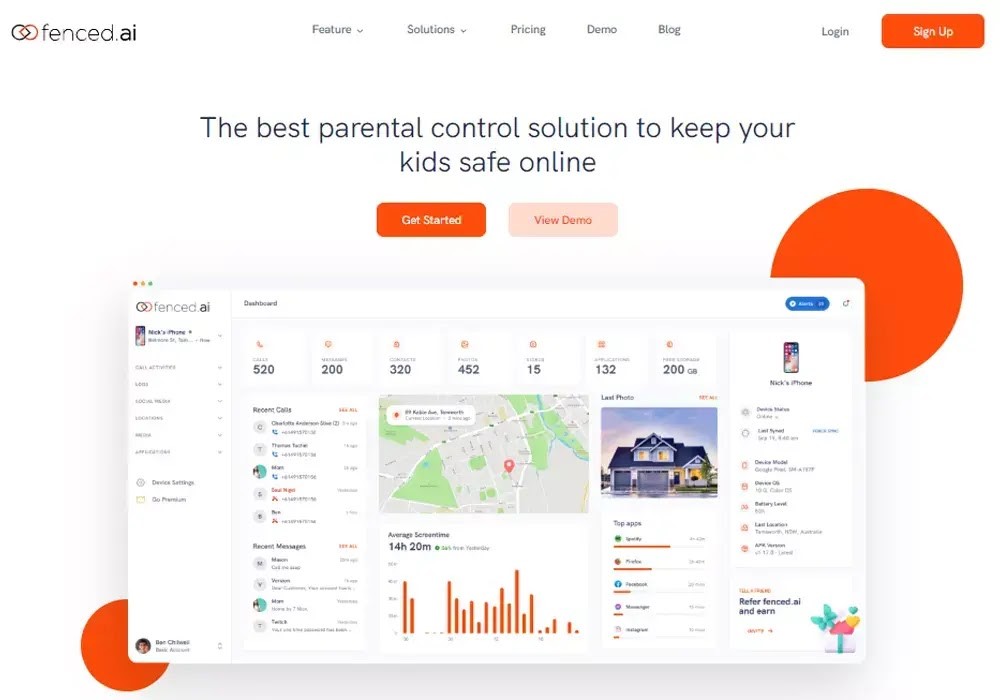 Features:
Geofencing
Application Activity
Screenshots
Keylogger
Monitor Email
Monitor Calls
Pricing: The basic price starts from $5 per month.
2. MobileSpy.io
MobileSpy is the ultimate app to spy on your cheating partner and monitor employees and your kid's activities. You can use MobileSpy to monitor and control your kid's Netflix and protect them from watching mature content.
MobileSpy helps monitor your kid's social media, block websites, and save your child from scams, frauds, cyberbullying, and other online risks.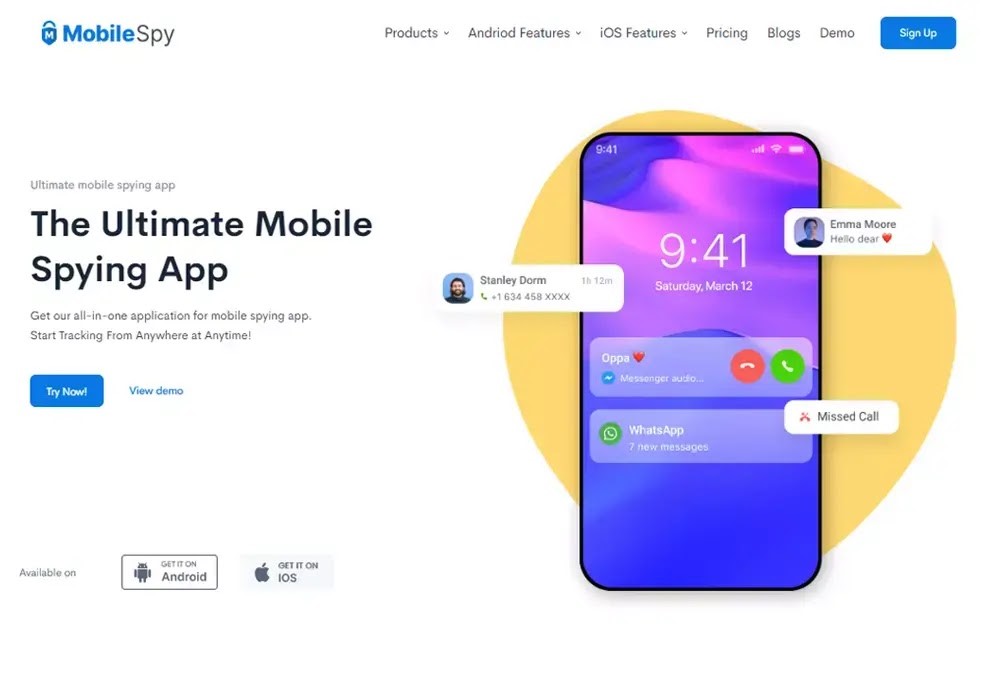 Features
Monitor Social Media
Geofencing
Monitor Calls and Messages
Remotely control devices
Monitor Photos Videos
Pricing: The basic price starts from $9.99 per month
3. Google Family Link
Google Family Link is an excellent choice for parents who want to monitor their children's Netflix usage. It can track their screen time, set restrictions, and monitor their activities.
Google Family Link's easy-to-use interface and comprehensive monitoring capabilities provide the perfect solution for keeping kids safe while they enjoy streaming media online.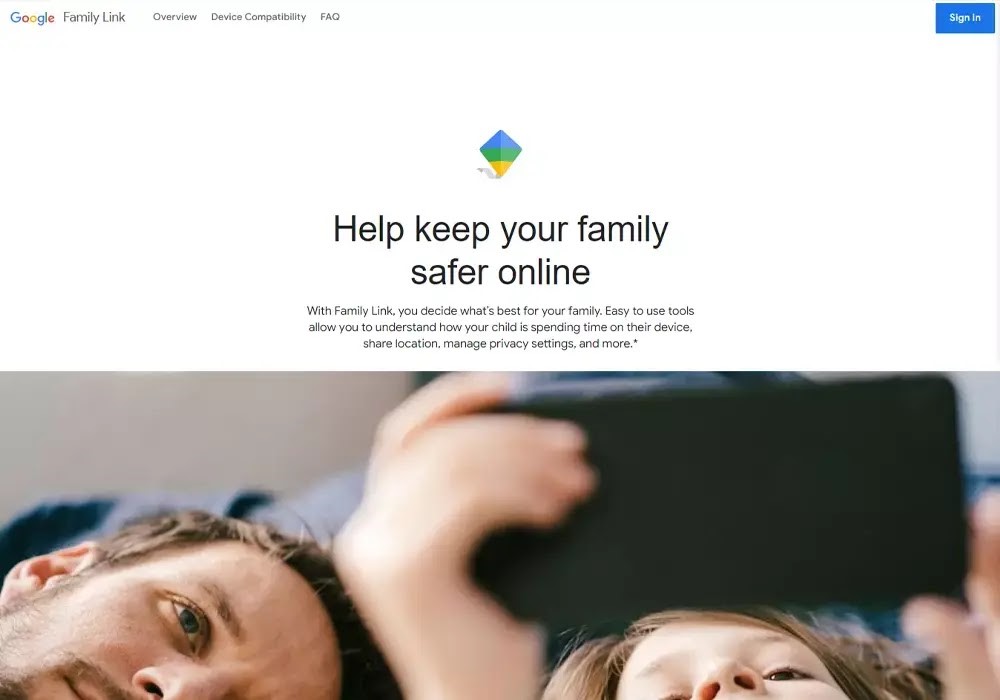 Features
Limit Screen time
App Management
Location Tracking
Remote control device
Web browsing supervision
Pricing: Free
4. FamiSafe
FamiSafe is another excellent choice for tracking your kid's Netflix activities.  With FamiSafe, parents can fully see what their children are watching on Netflix on their devices. You can track their activities, but sadly FamiSafe can not set time-based limits.
But still, you can set restrictions on the app and monitor their mobile usage.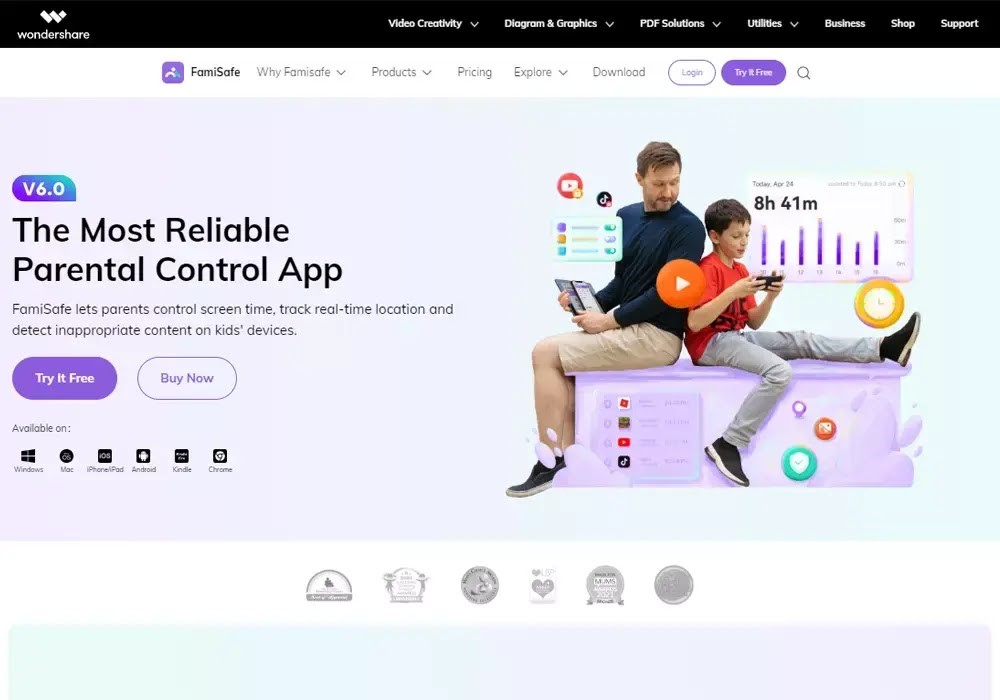 Features
App blocker
Web filter
Geofencing
Activity report
Pricing: The basic plan for FamiSafe starts from $10 per month
👍 Related: Best Parenting Control Apps to Control Your Child's Phone.
Tips for Ensuring the Effectiveness of Parental Controls on Netflix
Parental Controls for Netflix can be effective, but you should check the effectiveness occasionally. You should stay updated about your kid's progress and activities on Netflix. Here are some ideas you can implement while monitoring your child.
Ensure that parental control apps work as intended, and ensure your child uses Kid's Profile.
Customize settings and restrictions for individual profiles, such as age-appropriate content, time limits, and more.
Regularly review activity logs to track what your kid has been watching.
Ensure your password is secure and updated regularly to prevent unauthorized access from outside sources.
If you are using third-party parental control software, regularly monitor their activities on Netflix, set alerts and notifications, and review the effectiveness of the third-party apps.
Sometimes, using parental control tools and softwares can not be enough. To make it more effective, talking to them is the best solution.
You can explain why it's important for them to avoid such content and how watching it could negatively impact them. Suggest your child engage in activities like reading books, playing games, or doing a craft together instead of watching TV shows with adult themes.
More importantly, ensure your child knows about all the third-party and in-built parental controls available on Netflix so you can monitor what they're viewing more closely.
Conclusion
Netflix is a great platform for watching movies and TV shows. Still, it contains mature content that can be inappropriate for your kids. Set parental controls and third-party apps, as it is a great way to secure your kid's Netflix-watching behavior.
With these tools in place, parents can have peace of mind knowing that their children are being protected from inappropriate content while still enjoying the entertainment that Netflix offers.
FAQs
What Parental Controls are available for Netflix?
The different Parental Controls available on Netflix are
Profile for kids
Set Maturity Ratings and Block Titles
Lock Profile
Require a PIN
Turn autoplay off
Viewing History
Can my parents see when I watch Netflix?
Yes, your parents can see what you watch on Netflix if your profile is not locked and if they're using the same account.
Can I delete Netflix watch history?
Yes, you can delete your Netflix watch history. Here are the steps to delete history on Netflix
Go to your profile and parental controls on Netflix
Choose viewing activity
Delete the movie or TV show to clear your watching history