Delhi summers are sweltering. People prefer to stay in their homes all day and have to spend their summers in pools or their rooms. Delhi's scorching summer days make you feel like staying on your living room couch and spending your days watching your favorite flicks. However, you don't have to coop up in your room all day and can go to a fantastic water park in Delhi. Water parks are the best way to escape this summer's heat. It is an affordable and easy way to spend your summers.
You can relax, let go, float in the pool, or enjoy exciting slides with innumerable turns and twists. However, you must carefully decide which water park to go to as hygiene and safety are paramount when going to a water park. Here, we have compiled a list of some of the top-rated water parks in Delhi and some of their popular features. You can choose any one of them that seems the most enjoyable to you for a fun-filled day with your family and friends.
List of top water parks in Delhi
1. Splash-the water park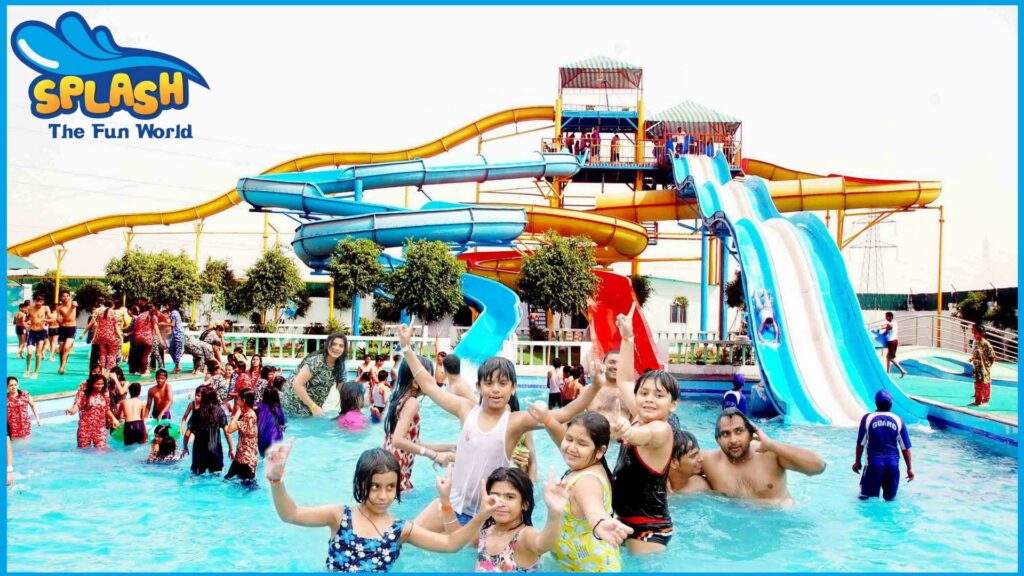 Splash is an excellent choice for families because it offers amusement rides and water park slides. If you have some family members who can't swim, they can easily enjoy the day with you at Splash. Visiting Splash can be pretty refreshing since it is in the midst of nature.
Features:
It has an energetic vibe that instantly puts you in a good mood.
They offer some mind-blowing rides to both adults and kids. However, some slides are strictly reserved for the adult group since they're so adventurous.
If you decide to visit Splash this summer, you must hit the most popular slides, the Mushroom Fall, Harakiri, and the Cyclone Family Slide. Besides this, they offer many multi-lane slides you can use with your loved ones.
This place is the hub for adrenaline junkies; their magnificent slides are sure to put your heart in your mouth.
The Splash is so well-loved by the people as it is affordable too. It can be considered to be the cheapest water park in Delhi.
It is located in North Delhi and only costs INR 800 for one person.
2. Adventure Island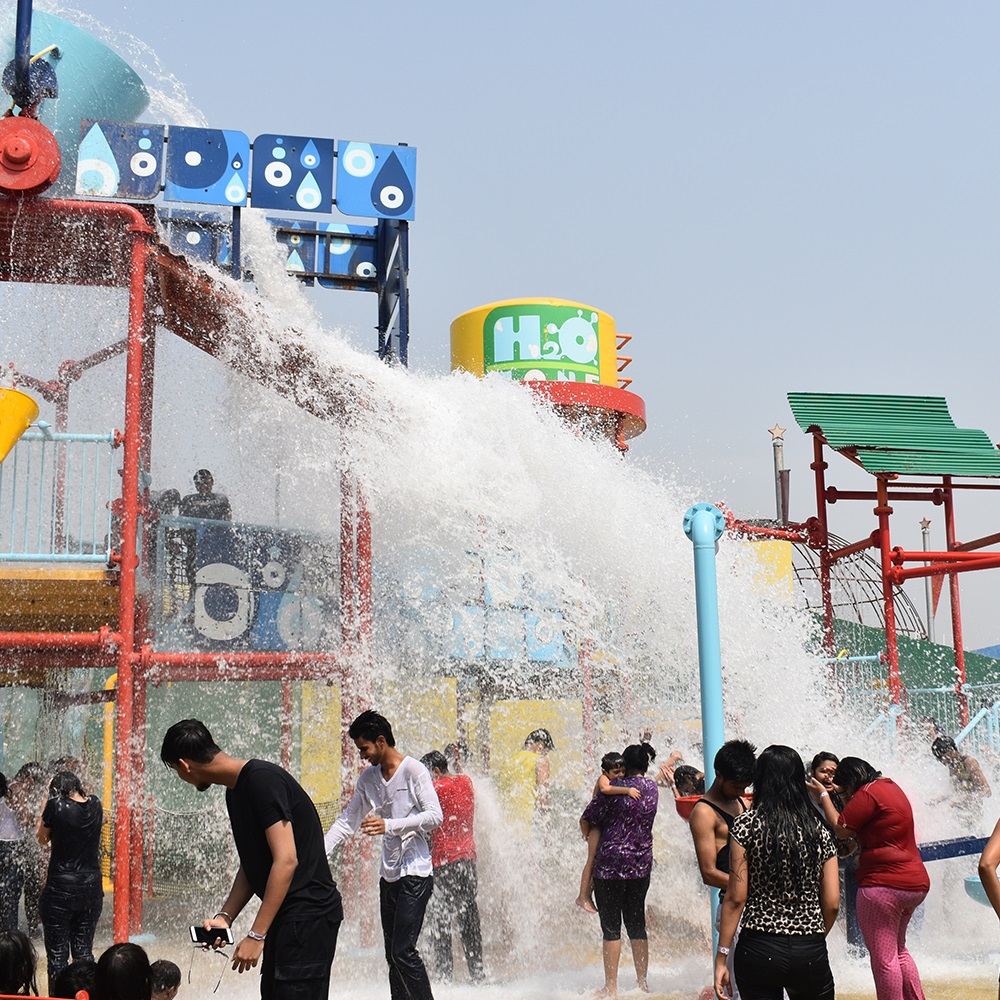 Adventure Island truly brings crazy adventures to you. Everyone in Delhi is crazy about Adventure Island since it also offers good food and entertainment. It is a lively place to go and relax on a hot summer day. It is considered to be the best water park in Delhi.
Features:
It has over 25 slides that can leave you gasping for breath.
They put up exciting dance performances to entertain the people.
It is always filled with kids and adults and has activities available for both. They also play the latest music so you can enjoy yourself fully with your loved ones.
Adventure Island is located inside the premises of Metro Walk Mall. You can just go to the mall if you don't enjoy water parks.
Adventure Island water park is located in Rohini and is relatively cost-effective.
It costs around INR 350 for senior citizens, INR 550 for children, and only INR 650 for adults.
3. Fun N Food Village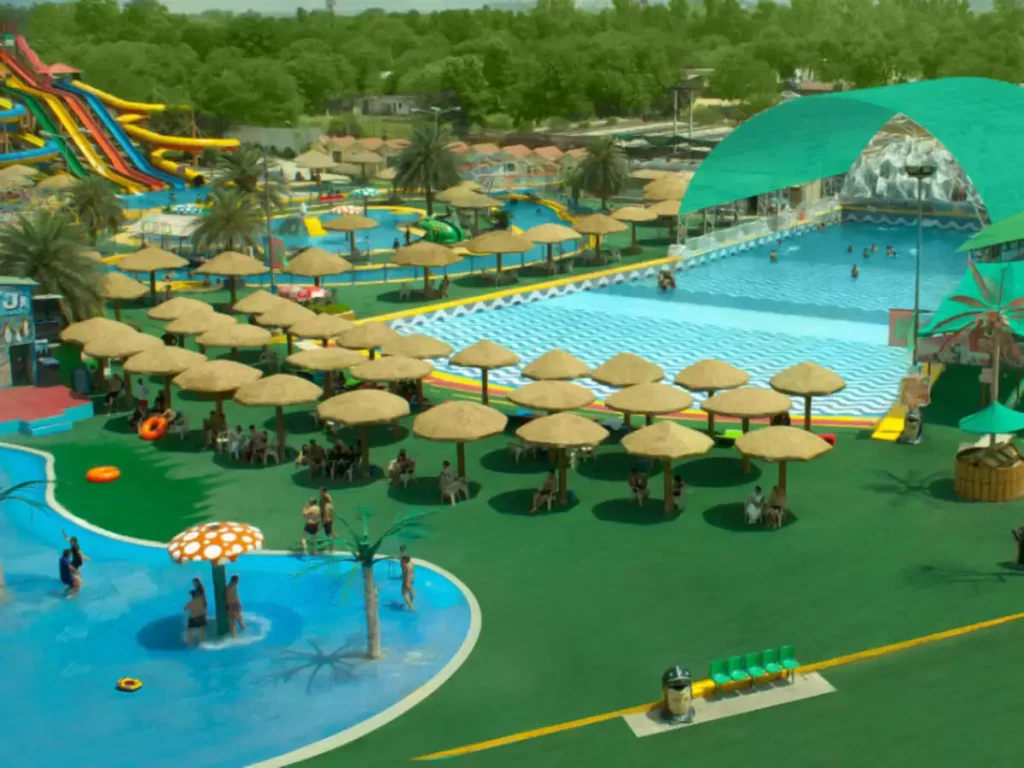 Fun N Food Village is the perfect place to unwind and relax. It provides a great solution to the scorching heat of Delhi. It is considered to be among the best water park in Delhi. It is not strictly a water park as you can also enjoy many dry rides. Have a fun-filled weekend at affordable prices in the Fun N Food Village.
Features:
You can just float along in the 400-feet long Lazy River with a floater.
It is an excellent option for people who are not keen on going on adventurous slides and rides.
Fun N Food Village is among the oldest amusement parks located in Delhi-NCR.
They have around 40 slides and rides in their park.
You can enjoy it here thoroughly with your whole family as numerous kid-friendly rides are available here too.
There are numerous affordable hotels around this water park. You can easily stay here for a weekend.
It is located on Old Delhi-Gurgaon Road, and the tickets are cheap.
It costs around INR 1000 for one adult and INR 500 for a child.
4. Just Chill Water Park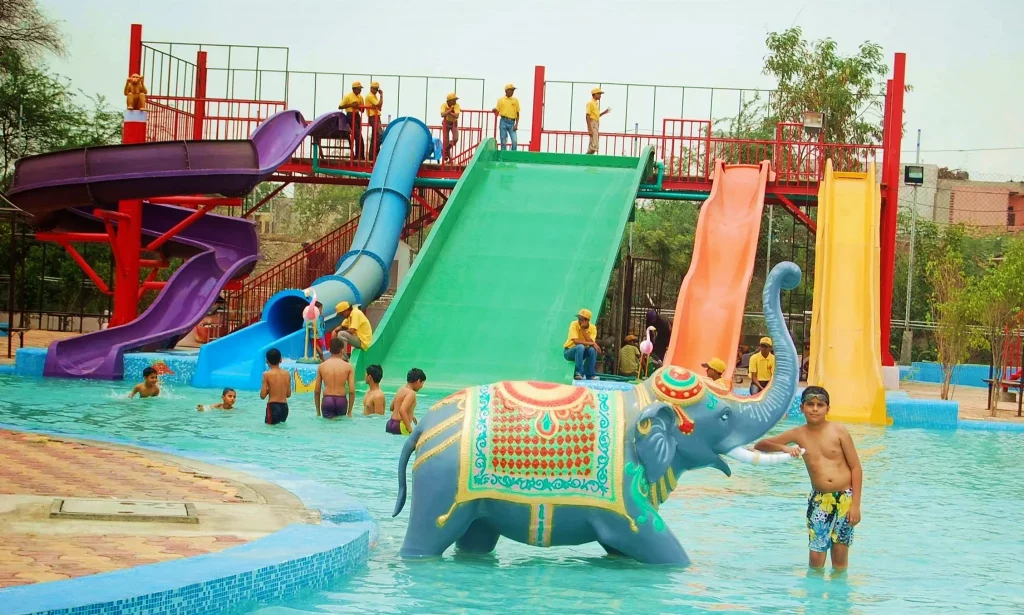 Just Chill Water Park is aptly named as the perfect place to chill for the weekend to escape Delhi's hot summers. It is among the newest water parks in Delhi and has been hugely popular with the Delhi population. The Just Chill Water Park is a fun place to visit with your friends and family as it has something to offer everyone.
Features:
They have incredibly thrilling rides, such as the Black Thunder, which will leave you completely dizzy.
It is the perfect place for adrenaline junkies. They have other entertaining attractions in the water park called Katrina Twist and Rainbow Godzilla that have grabbed the attention of Delhites.
You can easily play the numerous adventure games in the Just Chill Water Park with your whole friend group.
This excellent hotspot of fun activities is located in GT Karnal Road, Delhi.
They charge around INR 500 per person.
5. Aapno Ghar, Gurgaon
Aapno Ghar in Gurgaon is a popular water park in Delhi. It is among the oldest in the city today and is still flourishing. It is perfect for a family to relax and enjoy themselves in the sweltering heat. You can spend your weekend with your friend group or entire family easily. This water park is highly affordable and offers many perks. It can also be considered to be the cheapest water park in Delhi.
Features:
Many people prefer Aapno Ghar water park since it can provide entertainment for all age groups.
It has remained a popular place for people to enjoy rides for a long time.
It is the best choice for a family weekend getaway as you can get fantastic food here with unlimited entertainment.
Their food is top-rated and of high quality.
You can find dishes from the Continental and Indian cuisine here.
It provides around 42 guest rooms with top-rated facilities. The rooms offered are a great benefit as people don't have to search for nearby hotels and can enjoy staying in the famous Aapno Ghar water park.
They have a wide variety of slides and offer plenty of adults and kid-friendly rides.
You can easily reach Aapno Ghar water park via the National Highway 8 in Gurgaon.
It only charges around INR 750 for one person.
6. Worlds of Wonder, Noida
Worlds of Wonder lives up to its name as it has numerous wondrous slides throughout the giant park. It is among the largest water parks on the Asian continent. They have many dry rides and are a combined amusement park and a water park. You can get the best of both worlds in this place. You might want to visit the Worlds of Wonder for a weekend since it is so large you would need two days to appreciate all it offers fully. This water park in Delhi is a place you must visit.
Features:
They offer around 20 rides that will give you goosebumps and make your heart beat faster. If you like chasing the high you get from adrenaline, these rides are a must-try.
Besides, they have a fantastic array of slides in the water park section. You can enjoy all the 26 unique water slides they offer for adults and children.
There are numerous top-rated hotels in Noida around this water park.
You can choose among the many hotels near this water park according to your budget and requirements. It is highly cost-effective as the tickets are priced low.
Senior citizens are only charged around INR 200. However, adults and children must pay a little higher to enjoy this park's great slides.
Adults must pay around INR 1450, and children must pay INR 999 for a ticket.
7. Appu Ghar, Oysters Beach Water Park, Gurgaon
Appu Ghar is among the oldest water parks in Gurgaon. However, it has been updated with the latest models of the most thrilling rides to attract the younger generation. It has been given a complete makeover, and its name has been changed to Oysters Water Park. It has the most exciting rides for people who are not afraid of anything.
Features:
They have taken an interesting approach and set an exciting Rainforest theme. You can experience the beauty of the rainforest just by visiting the Oyster beach water park.
It features India's tallest slide, a 99-feet slide known as Free Fall. If you have an adventurous spirit, you can try this thrilling slide.
Oyster beach water park also has another crazy ride called Oh My Gurgaon, which throws you in a sharp 45-degree loop.
It is located in Gurgaon and costs around INR 1399 for one person.
8. Drizzling Land, Ghaziabad
Drizzling Land calls itself an aquatic adventure park. This water park has the most amazing rides, which would give you goosebumps. You can visit the Drizzling Land with all your family since it offers slides for people of all ages.
Different slides have an age limit set because of safety reasons. However, children won't miss out on any fun since they can thoroughly enjoy themselves in the kid zone, especially for the enjoyment of toddlers and kids too young for the many adult slides. The kid zone is always cheery, with numerous toddlers learning to play with water for the first time.
Features:
The water park offers rides such as the Disc Coaster, the fun-filled Wave Pool, the Revolving Tower, etc. These rides are the most popular as they are incredibly thrilling and exciting.
The Drizzling Land water park offers you the chance to stay in their rooms if you want to extend your trip to the water park for a few days. You can book a few rooms for your whole family to stay here for a few days.
If you are unsure about staying in the rooms, you can try the famous Treebo Hotels located in Gurgaon close to this water park. You can enjoy the perks of living in a hotel and enjoy the exciting rides at the water park for the weekend easily.
It is located in Ghaziabad and charges INR 950 for adults and INR 650 for children.
9. Ffunmax, Faridabad
Ffunmax provides maximum fun as it provides the most exciting rides, pools, and slides. You'll surely enjoy yourself here as their vast collection of fun pools and slides is perfect for kids and adults. You can enjoy yourself and relax from the heat easily by staying in the water.
Features:
Some famous places in Ffunmax are Breakdance, Frisbee, kids rides, Wavepool, Sun n Moon, Body Slide, Giant Wheel, Multi-lane, Frog Carousel, Tube slide, Family pool, etc.
It is located in Faridabad and is highly affordable to families.
It only charges INR 700 for adults and around INR 600 for children.
10. Jurasik Park Inn, Sonipat
The Jurasik Park Inn is a unique water park with dinosaurs as its theme. It is a fascinating place to visit if you're interested in dinosaurs. It is the best place to visit with your family for the weekend as it offers numerous things.
Features:
They have approximately 30 dinosaur models which look natural. Some life-size dinosaur models can move their heads and roar at you too.
It is an amusement park and a water park.
You can also stay here as they provide rooms for their guests at an affordable price.
Your family can enjoy any 21 rides, the party lawns, and six exciting slides.
It is located in Sonipat and charges INR 1000 per person.
Conclusion
Delhi heat is scorching, and it makes it hard to enjoy yourself. However, you can visit a decent water park to enjoy yourself with your family. Water parks offer the excitement and enjoyment you can get from an amusement park, but you don't have to suffer through the heat. You can try numerous new slides and enjoy this summer thoroughly. It is important to choose a good water park that meets all your needs. Hence, you should check out the number of slides and rides each water park offers mentioned in this article, along with the prices for tickets for adults and children.