The devastation that we see around us today caused by the second wave of COVID-19 in the country, is not just because of the rates of infection of the disease, but also, and perhaps, more significantly, because of the crisis in life-saving supplies. Particularly somewhat we have always taken for granted – Oxygen.
This article intends to put facts in the right perspective for easier understanding about medical grade oxygen, to differentiate between oxygen concentrators and the need for oxygen cylinders based on the severity of the infection.
Why we require Oxygen Therapy

As per the WHO, the oxygen therapy is recommended for all severe and critical COVID-19 patients ranging from 1-2 Litre/minute in children and starting from 5 Litre per minute in adults with a nasal cannula; moderate flow rates (6-10 Litre/minute) with venture mask; and higher flow rate (10-15 Litre/minute) using a mask with reservoir bag. It is needed when the patient is suffering from acute respiratory discomfort and their oxygen saturation drops. Medical oxygen is recommended when the saturation level goes below 95% in the body.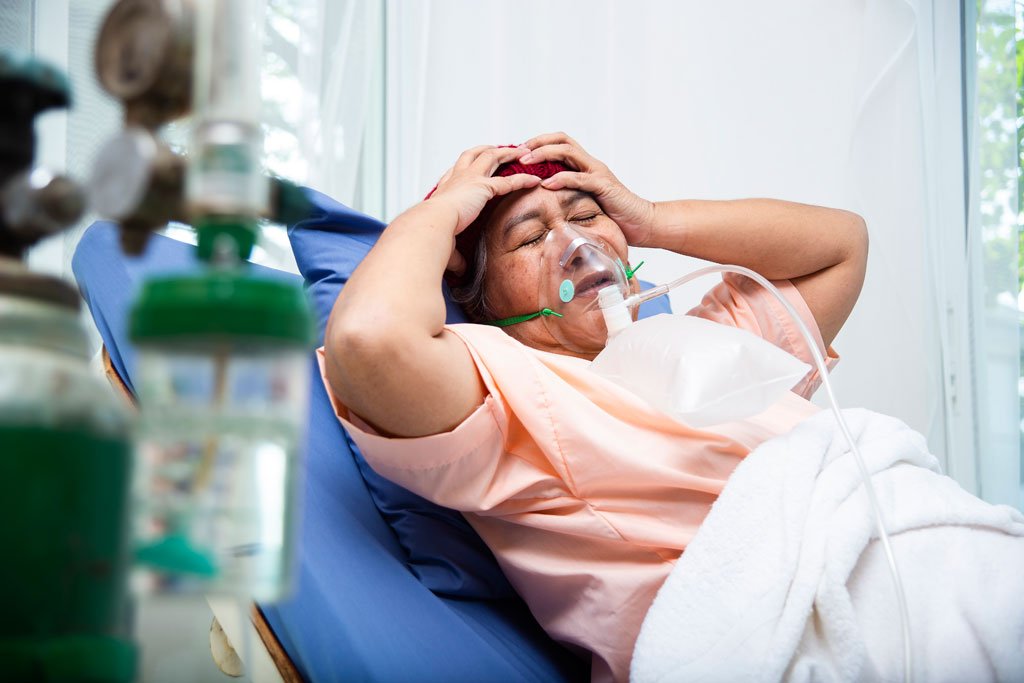 What is Medical Grade Oxygen
The air we breathe is a mix of several gases, such as oxygen, nitrogen, carbon dioxide, and hydrogen. The term 'medical oxygen' means high-purity oxygen, which is used for medical treatments and developed for use in the human body.
Difference between Medical Oxygen and Industrial Oxygen

Due to various similarities between the medical oxygen and industrial oxygen, people get confused about usability of industrial oxygen for medical purpose. The medical oxygen is the oxygen intended to be inhaled by humans. It is made using medical grade air compressor, transported in medical grade tankers which have very stringent requirements in terms of not allowing any type of impurities or contaminants to be carried with the supplied high-pressure oxygen.
Whereas industrial oxygen is typically used in manufacturing plants and steel for certain tasks like combustion, oxidation but not intended to be inhaled by humans. Thus, Industrial oxygen is not safe to breathe.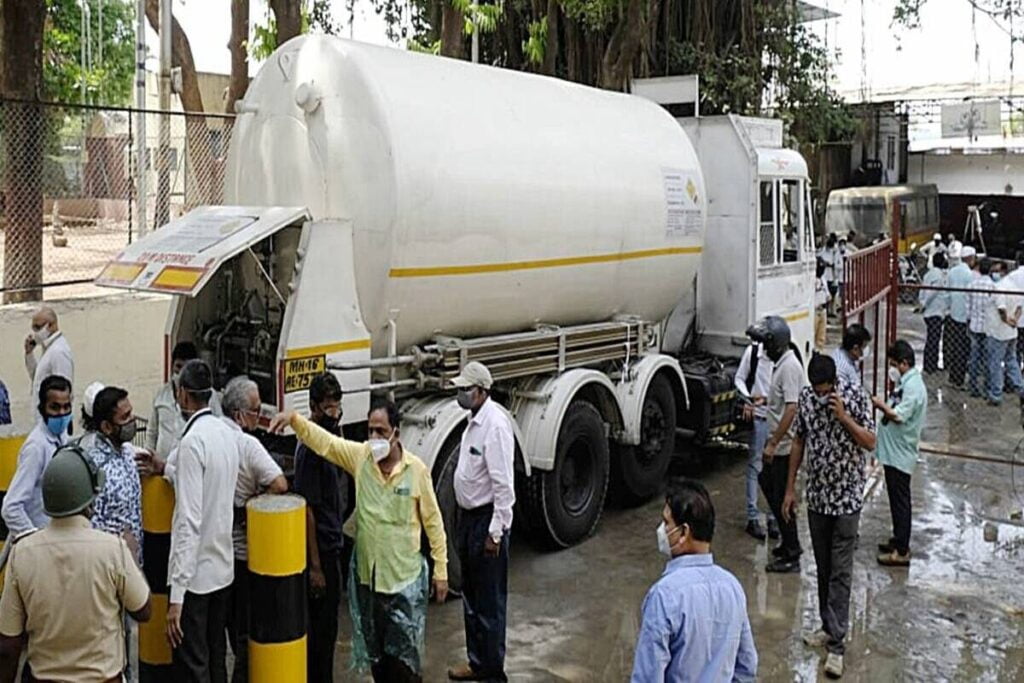 Oxygen Cylinder Production & Transportation Challenges
The main problem with oxygen is that it is combustible. It catches fire very quickly. There are some safety and security norms which have to be followed while making and transporting the cylinders. The oxygen storage cylinders are called Cryogenic cylinders. The oxygen is filled in the liquid forms in the tankers which have great pressure and poor quality of material can explode due to the pressure. Further, the tanks must be free of contaminants. So, we cannot produce oxygen anywhere and transport it. That is the reason there was an issue while supplying the oxygen in India recently because no country has the cryogenic tankers in large numbers due to the maintenance and contamination issue.
Adding to it, do you know the oxygen express can run only at the speed of 65 km/hour maximum because of the safety of liquid oxygen filled in the cryogenic tankers. Further, the speed of the trucks carrying the cryogenic cylinders cannot be more than 25 km/hour, so the delay in reaching the oxygen from one place to another place was expected.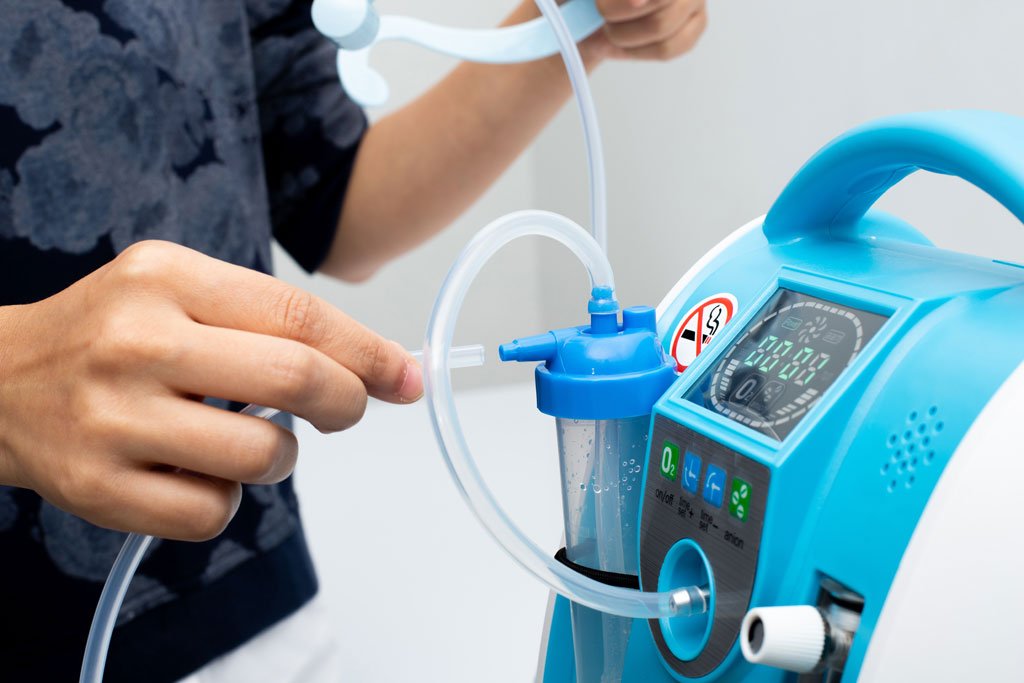 What is an Oxygen Concentrator?
An oxygen concentrator is a very useful medical equipment because of its size, portability, and no requirement of any refilling. It is a device used to concentrates the oxygen from the environment and remove nitrogen to supply an oxygen-enriched product. It generates medical-grade oxygen. It is a cost effective, safer and more convenient option to oxygen cylinders or tanks.
We can use the oxygen concentrator for patients who have oxygen saturation in between 85-94. If the saturation level drops below 85%, in such cases, the patient would require more oxygen which will be only fulfilled with the proper medical equipment and oxygen cylinders. While no oxygen therapy can instantly boost oxygen levels or restore them to normal, COVID patients should aim to achieve a saturation between 88-92%.
How to Choose an Oxygen Concentrator
Oxygen concentrators are categorized based on the flow in Litre per minute with ranges of 1-5, 1-10, and larger ones. In a small oxygen concentrator, 90% oxygen concentration is achieved only at lower flow rates i.e., 1-2 Litre per minute. As the flow rate is increased, the oxygen concentration drops to a level as low as 30%. A common oxygen concentrator that is delivering oxygen at 30% concentration is practically just blowing atmospheric air with marginal gain in the concentration as the atmospheric air has 21% oxygen already.
Weight is the best indicator to understand the oxygen production capacity. A 5 kg to 10 kg concentrator means a small compressor which will only manage to give an output of 90% oxygen in between 1 Litre to 2 Litre pe minute. A 15 kg to 20 kg concentrator will have comparatively big compressor that can easily give output of 90% oxygen at flow from 1 Litre to 5 Litre per minute, which is Ideal for COVID patients and critical care patients. Further, a 20 kg and above oxygen concentrator will have a large compressor which can give an output of 90% oxygen from 1 Litre to 10 Litre per minute.
While selecting a concentrator, preference should be given to those units which offer a high flow rate with maintaining 93% oxygen concentration. The buyer should carefully read the laboratory specifications and check for their certificates and test reports which mention oxygen concentration versus flow rate characteristics. Generally, for home use, oxygen concentration values are flow rates of 5 Litres per minute and 10 Litres per minute.
For a small family with no senior citizens a 5 litre at 90% oxygen concentration should be good enough. For 2 senior citizens or for a big family, 10 litre at 90% oxygen concentration should be good enough as it can support 2 patients at once if the need arises and can assist senior citizens during home critical care if the need arises.
Please do not get fooled and pay big money for small oxygen concentrator sold by highlighting 5 Litre and 8 Litre and do not give an output of 90% concentration of oxygen at higher flows which is the need of the hour. Read the specifications well and if required please ask your supplier to show you the oxygen output at higher flow of 5 Litre or 10 Litre.
Do's and Don'ts of Oxygen Concentrator
Do's
Clean the filter regularly: Many concentrators have gross particle filter which catches dirt, dust and other particles. Keeping the filter clean help ensure the purity of oxygen and does the job properly.
Change the Cannula at least once a month
Run your oxygen concentrator at least 8 hours each month to avoid the maintenance
Keep the oxygen concentrator in its protective case to avoid the accumulation of dust particles on the surface
Drink at least 6-8 glass of water or juice to stay hydrated as the mouth and nose may feel dry when on oxygen.
Don'ts
Do not leave the oxygen concentrator in hot weather or in rain. It would risk damage to the inner and outer parts.
Do not run the concentrator without using it. The oxygen concentrator releases a puff of oxygen according to a person's breathe rate by sensing it. If it is not getting the correct sensing, then it will begin to run down the battery very quickly.
Do not place the concentrator in a small space as the running concentrator can quickly deplete the oxygen in a small space and become dangerous.
Do not smoke around the oxygen concentrator as it becomes risky and could explode because of the hot ash or spark.
Do not use air fresheners/body sprays having aerosol in it as the aerosol are highly flammable
Frequently Asked Questions (FAQs)
1. Oxygen Concentrator generates oxygen, so as trees. If more trees were planted, the need for oxygen get fulfilled? Or can we say that the situation might be different than today?
Ans: No. Both things are entirely different. There is a difference between natural oxygen and medical-grade oxygen. Trees produce oxygen through photosynthesis process which produce oxygen and absorb carbon-di-oxide. You cannot get oxygen in your contaminated lungs if you sit in a forest.
2. Can an oxygen concentrator be a replacement for a ventilator or oxygen cylinder?
Ans: Never. The oxygen concentrator is not a replacement for ventilators or oxygen cylinders. It has certain limitations. It is suitable for Chronic Obstructive Pulmonary Disease (COPD) patients only. Patients with moderate and severe health conditions will need higher doses of oxygen (upto 80 litres/min) which cannot be met by an oxygen concentrator.
3. How oxygen concentrator works?
Ans: As we all know, the normal air has 78% nitrogen and 21% oxygen. The oxygen concentrator accumulates air, filter it, release the nitrogen back into the air and supply the 99% pure oxygen through a nasal cannula using a pressure valve which regulates the oxygen flow. The supplied oxygen is in the purest form which helps the patient to breathe.
4. Can an oxygen concentrator be used in severe conditions?
Ans: No. It could be used for non-severe conditions or after discharge of the patients from the hospital, or for home care. The oxygen concentrator can only deliver oxygen at a flow rate between 1-10 Litres per minute. The acute respiratory discomfort and the saturation drops can be managed by the oxygen concentrator as it needs a little amount of oxygen. For those individuals who are having an oxygen saturation of 92 or 94, there is no need to take high oxygen just to maintain your saturation.